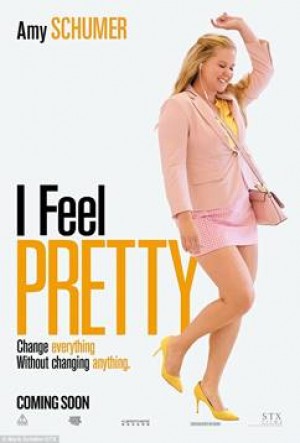 [Rating: Minor Rock Fist Down] 

Body confidence is an issue that most everybody has and yet nobody wants to talk about it.
From people's weight, their facial features, the way they talk, everybody has their own little quirks that make them, them! Amy Schumer has seemed to capitalize on this in much of her humor as it is seen as your standard, self deprecating type. In 2015, Schumer coming off of her successful self named television show, starred in Trainwreck to critical acclaim. Now, three years later she's in I Feel Pretty which again is marketed really to Schumer fans, and pretty much a movie with the already mundane idea that Schumer doesn't like the way she looks, so why not change her appearance in an unordinary fashion?
Renee Barrett (Schumer) is an average girl working in a basement for a high end fashion line. She wants more out of her mediocre life and feels because she doesn't look the standard New York City model type, she has to change this look. One day, when she's knocked in the head at her spin class, something changes in her that tells her the woman she now sees in the mirror in a brand new BEAUTIFUL Renee.
Clearly it's not to her friends Vivian (Aidy Bryant) and Jane (Busy Phillips), but that doesn't stop her from applying for a bigger job with Avery LeClaire (Michelle Williams) a famed fashionista with issues of her own. Renee through this new outlook on life, even finds love through Ethan (Rory Scovel) who again, doesn't understand her schtick but goes long with it. Hilarity ensues for near two hours and we're left with the central idea that it doesn't matter what you look like on the outside that counts.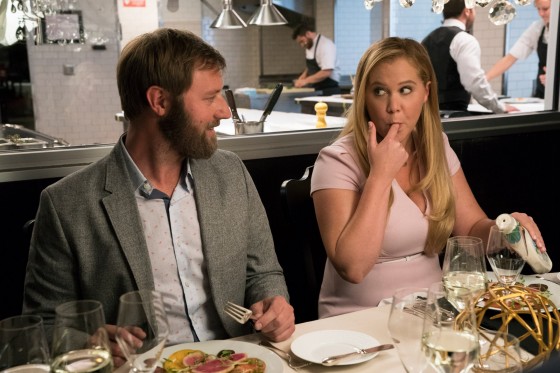 Wow that was a lot to take in!
Sad to say, I Feel Pretty wasn't for me and I actually had some hopes for this. I was taken aback that it took me 22 minutes (I checked my fitbit watch) to laugh, and the laugh wasn't even originated by a named character. It's weird to think that one of Renee's friends takes until maybe 30 minutes to the end to sum up the entire movie in one sentence. "Why do you care about what other people think you look like?"
Schumer and the writer/director team of Abby Kohn and Marc Silverstein had good intentions here. It is great to see a movie address the idea of body positivity and looks don't matter, but I've seen it many times over and done better. Go watch something like Other People to see it done right. Heck, even Shallow Hal. The one good – maybe great – bright spot of this movie is Michelle Williams. Like Tilda Swinton's magical cameo moments in Trainwreck, Williams offers some of the best funny moments and her narrative is probably the strongest and memorable in what she thinks she has confidence issues with.
I Feel Pretty sadly ends with a thud for me and that's two in a row for Schumer (along with Snatched). The girl is fine but I can never actually pinpoint a lot of what she has done well. I laughed to myself at one moment in this and realized what I was watching was supposed to be seen as serious with a message at heart, but sadly never once got me to grasp the concept.