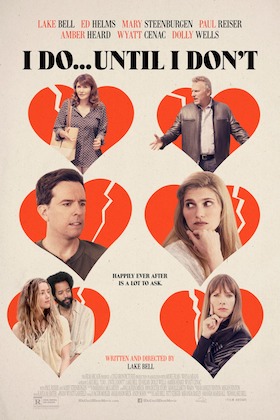 [Rating: Solid Rock Fist Up] 

Infused with a unique voice and a discerning eye behind the camera, I Do…Until I Don't is a frothy, humorous, and tender examination of marriage: warts and all. The ensemble cast does wonders with a script that is admittedly thin at times, yet never lets things dip below the film's reality watermark. Anchored by the performance of Lake Bell, who also wrote and directed the picture, I Do…Until I Don't (opening today) recycles the mockumentary formula yet never comes off as redundant or familiar: an admirable feat, to say the least.
The movie follows renegade documentary filmmaker, Vivian (Dolly Wells), as she embarks on her newest project, which is ostensibly a challenge to the institution of marriage. She's looking for couples in south Florida to participate in her documentary, which is front-loaded to prove that monogamy and long-term partnership are counter-productive, antiquated, and doomed to fail. Fate brings Vivian three different couples to hone in on, starting with Alice (Lake Bell) and her husband Noah (Ed Helms). Alice is a big fan of Vivian's early work, and is eager to volunteer herself for a creative endeavor since her daily routine as co-manager of her husband's blinds business has her in something of a rut.
Then there's Alice's sister, the free-spirited Fanny (Amber Heard), who has also joined the documentary, yet in a way that sees her getting paid to talk about her more exciting long-term/open relationship with her fellow-hippie partner, Zander (Wyatt Cernac). Unbeknownst to the sisters and their beaus, Vivian has also paid good money to Cybil (Mary Steenburgen), a jaded relator who admits that she's already on the verge of breaking it off with her husband of 15+ years, Harvey (Paul Reiser). With her pawns in-hand, Vivian gets to work poking at the open wounds of each couple, and tries desperately to create the drama that will prove her thesis: monogamy is a sham.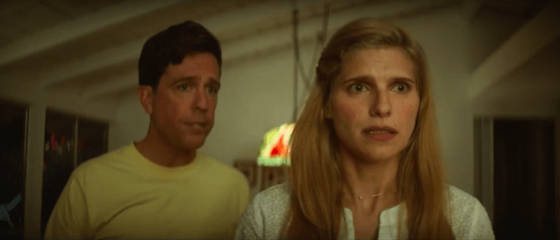 Bell's direction and script do a fine job moving the pieces into place to keep the characters and their drama bouncing off each other in a believable and enjoyable way. Although the movie makes something of an unforced error with a subplot involving a massage parlor, everything else clicks along smartly, and helps to draw out the comedy and drama of the three couples and Vivian's documentary about them. Perhaps most importantly, Bell never lets the pacing of the effort drag, which could have presented problems for a less accomplished filmmaker attempting to weave all of the narrative threads together.
There's great interplay between all three couples, yet Steenburgen and Reiser often end up stealing the show when they're on-screen. Married longer than anyone else in the movie, their dialogue speaks to a weary pair that have grown apart over time, yet still retain an almost reflexively protective dynamic. Cybil and Harvey may not seem to like each other all that much, yet have been together too long to allow someone else to come in and push the other around. Sure, Harvey's newfound predilection for motorcycle riding screams mid-life crisis, yet chiding him for it is a job that Cybil reserves for herself.
Alice and Noah are likewise imperfect, and have their fair share of problems, yet they never deviate from the fact that they belong to each other, and would do almost anything to make the other happy. It's all a stunning rebuke of Vivian's thesis, which holds that these relationship hiccups are proof that long-term commitment isn't practical. For people that aren't committed to the work involved in keeping a relationship going, this may be so, but as I Do…Until I Don't moves into its final act, it's clear that this isn't the case for the three couples involved.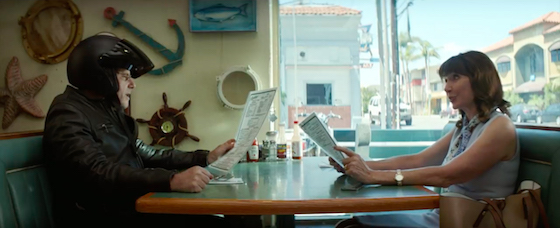 Even if the overarching tone of the film is light, this shouldn't suggest that the script's character work is anything less than razor-sharp. It's no coincidence that Noah runs a blinds business, and is himself somewhat blind to his wife's personal and creative frustrations. Harvey's weirdly personal connection to his motorcycle helmet is likewise an astute and clever touch, as he's set up as a man permanently ready for an attack from a spouse relentless in her aggressions. These small details help color in the story, which is breezy, yet has a lot to say about human nature and the work involved in maintaining long-term relationships.
If there's a weak link to the whole effort, it is the character of Vivian, who comes off as a buffoonish caricature of pretty much every loudmouth, heartless filmmaker within a film audiences have ever seen. She's entirely driven by her coarse and pessimistic documentary narrative, and has no compunction stepping all over the subjects she's enlisted to get her film in the can. She doesn't have much depth, and doesn't experience much of an arc throughout the picture, which seems like something of a missed opportunity. Everyone else in the picture with the exception of a pair of massage parlor employees (part of the aforementioned B-plot that doesn't really develop) transcend their basic character function within the script, so it seems odd that Vivian doesn't.
In all, though, I Do…Until I Don't does a great job peeling back the outer layer of marriage to reveal the uglier underbelly beneath the surface. The tone of the effort remains optimistic, however, and strives to demonstrate that this hidden layer holds everything together if the foundation is strong. Indeed, any relationship, whether new or old, can work if those involved work at it. The characters in Bell's film take turns learning the truth of this, and the journey towards that end is a fun one to take.