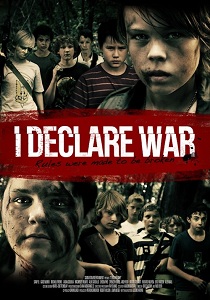 I Declare War opens tomorrow at the Alamo Drafthouse Mainstreet in Kansas City.
Directors Robert Wilson and Jason Lapeyre are the twisted and creative minds responsible for I Declare War, a strange hybrid film from Drafthouse Films that works as a war parody and also a painful examination of the heightened reality and growing pains of puberty.
I Declare War won the Audience Award at Fantastic Fest last year and its easy to see why. Not only are young actors Gage Munroe, Siam Yu, and Mackenzie Munro terrific, but the subtext of the movie is easy to relate to and never far out of reach of the plot.
Besides being a Lord of the Flies-style story where everything spirals out of control and deeper truths are revealed, I Declare War has a neat formalistic trick up its sleeve that helps this heightened reality seem as life and death as to the audience as it does to it's teenagers.
Wilson and Lapeyre show the audience what the grim reality of the kids' little war game would look like if it were real. We see blood. We hear the rat-a-tat of machine guns and see fire coming from them. Kids use words like "kill."
That's because figuring out who you are and where you fit in can feel like war at this age. I Declare War brings all those feelings rushing back and is rousing, funny, thoughtful entertainment to boot.