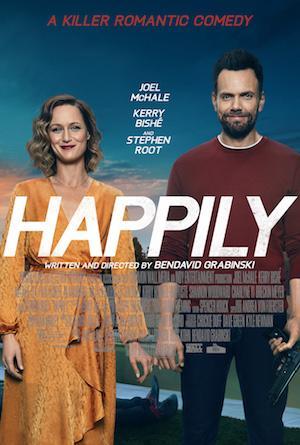 Currently in theaters, on digital & on demand

[Rating: Solid Rock Fist Up]
No married couple is perfect. We all have our ups and downs, arguments and disagreements. I think that applies to all of us, except Tom and Janet (Joel McHale and Kerry Bishé). After 14 years together, they hardly argue. When they do, they make up immediately. Oh, and they have sex two to three times a day and can hardly keep their hands off each other… everywhere. It's to the point where it sickens their resentful friends. Everything gets turned upside down when a mysterious stranger (Stephen Root) shows up on the doorstep and challenges everything that Tom and Janet stand for, in this new dark comedic thriller, Happily.

In his debut feature film, director/writer, BenDavid Grabinski, and his crew have created an intense couples getaway plot that has great comedic timing in the midst of an existential crisis. The whole film plays like an extended edition of a Twilight Zone episode. The freeze-framing, dream-like lighting, and the soundtrack gave the movie an 80's feel. By the time I heard Public Image Ltd's "The Order of Death," the vibe was confirmed. It reminded me of It Follows, a modern-day movie with an old-school feel. Props go to Music Supervisor Andrea von Foerster for picking tunes that totally represent each moment with both diegetic and nondiegetic sounds. Also, I really appreciate the nice nod to Streets of Fire at the end.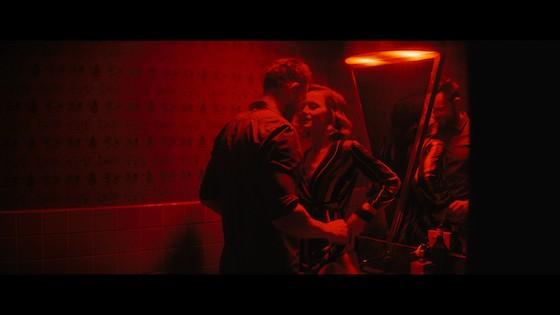 Joining in on the couples getaway are familiar faces, such as Natalie Morales (TV's Parks and Recreation), Paul Scheer (TV's The League), and (from the "where have you been?" department) Breckin Meyer (Rat Race). The outstanding performances come from McHale and Bishé. Their on-screen chemistry is convincing, without going over the top in their romantic scenes. All of the actors deliver their jokes, as well as their more serious lines, with precision and believability. Even with the small cast setting, the movie brings big energy and fun.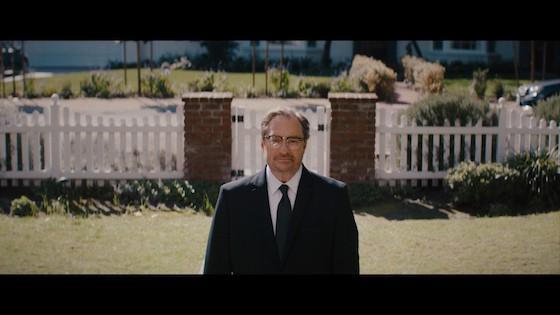 Despite leaving some things unresolved at the end, Happily is a thrilling comedy that takes a dark, revealing turn at the end that will definitely keep you wondering "what's next?" It kept me wanting to spend more time with these five couples. It's definitely is worth the watch and left me wondering, are there real-life Toms and Janets out there? Oh yeah, there's a post-credits scene too, so stick around for it. Sinfully funny!