Despite the fact that it is adapted from a classic Marvel comic book, director Ang Lee's new dysfunctional family psychodrama "Hulk" more closely resembles Universal Studios horror classic than a superhero movie. Sure, there are amazing scenes of the Hulk performing superhuman stunts. But, unlike the standard superhero drama, he's not really trying to save anyone but himself.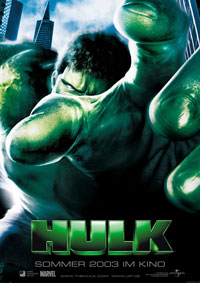 For the sake of proving a point, let's remove the main reason most people are flocking to see this movie- that the main character transforms into a huge monster and destroys everything in sight when he gets angry.
What we now have is a story of an obsessed father with a secret (Nick Nolte), an emotionally distant son with severely repressed memories (Eric Bana), and a frustrated and alienated ex-girlfriend (Jennifer Connelly) whose job-fixated militaristic father (Sam Elliott) was never there for her. Sounds a bit like one of those ludicrously hilarious soap operas on the Spanish channel, right? I mean, it wouldn't surprise me if one of the characters on those silly shows turned green and fought a giant rabid poodle either!
That's essentially the challenge Lee ("The Ice Storm," "Crouching Tiger, Hidden Dragon") faces with this story. He must make the outrageous seem believable, and make sure to have a little fun with all this heavy baggage. He pulls it all off rather convincingly, and he has way more than the required thirty-two pieces of flair.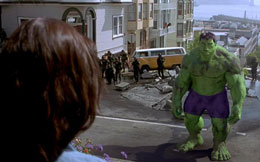 The actors all do a fine job, with Nolte's raging egomaniac standing out as the most over-the-top of them all. Running a close second for most frenzied is his hair. Connelly and Bana are good as the emotionally injured couple, but Elliott's barely restrained Ross is a delicate balancing act, and a real standout.
"Hulk" is long, at a little over two hours, and sometimes it's hard not to get bogged down by the depressing family-abuse overtones. Lee keeps a lengthy but needed prologue and the rest of the movie going with some very dynamic split-screen work and unique scene transitions. By mirroring the look of comics, he has created a bold new style of his own, and it's a joy to watch. Images are frozen on the screen as new ones forge ahead, sometimes in the same time frame, with different angles.
And as if that wasn't enough fun in the visual department, the Hulk, that CGI creation, is pretty damn spectacular himself. Scenes of Hulk stomping across the desert, facing Army tanks and helicopters, and standing atop the Golden Gate Bridge had me absolutely glued to the screen. They also bore more than a passing resemblance to "King Kong."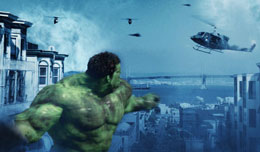 So, back to the monster movie comparisons. The themes explored in "Hulk" have been around for many a century, and I enjoyed watching Lee play with them as Whale did, both with a fierce straight face and also a wink and a nod. When the Hulk disposes of the movie's only truly one-dimensional villain (Josh Lucas), it is with a campy comic freeze-frame that looks as if he jumps into the next page. And every now and then when you're not really expecting it, a line of dialogue buried in the solemnity of the situation turns out to be hysterically scathing.
You could even call this the mother lode of creature features and family issue pictures all rolled into one. Bana's Bruce Banner is not just a misunderstood genius who creates a monster, as Frankenstein was, but he is the Monster as well!
And it's just not enough that the U.S. Army and government want to use Hulk for their own sinister purposes. There is another plan with even bigger scope being carried out with much deception by none other than Banner's own father! The whole affair, frankly, is quite absurd.
And I marvel at how Lee has met this challenge. Despite a murky final act (that actually began with lots of promise), the "Hulk" is by turns moody, thrilling and funny. It is steeped in realism, yet also manages to celebrate its bigger-than-life proportions.