Martin Scorsese isn't really the kind of director you would expect to mount a big-budget family film, but once its clear that the beautifully shot Hugo is both an adventure movie and a love letter to restoring classic cinema, it all makes sense.
He is the head of The Film Foundation, a nonprofit dedicated to film preservation, after all.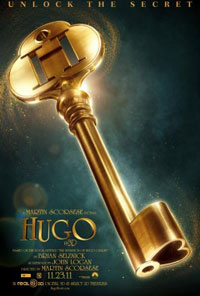 Filled with intricate set design, gorgeous art direction, and a true sense of magic, Hugo is a wonder to behold, especially in 3D — which Scorsese uses to emphasize depth and different characters' point of views.
The movie is based on Brian Selznick's award-winning 2007 illustrated kids' book The Invention of Hugo Cabret, and like the novel, it relies way more on images than it does words.
Asa Butterfield plays the title character, an orphan who lives behind the walls of a Paris train station in the 1930s. He spends his time stealing whatever he can eat, dodging the station inspector (Sacha Baron Cohen) and befriending a young girl (Chloë Grace Moretz), but the thing that keeps him going is his secret project — rebuilding a broken-down humanoid automaton. It is all he has left of his father (Jude Law).
Belief in magic is a huge part of Hugo's theme. The precocious young boy knows its impossible, but somehow feels that if he can fix the automaton, it will send him a message from his father. Couple this with the backstory of a cranky old man with a secret of his own who sells toys in the station (Ben Kingsley), and you have a lot of room to entertain the fanciest of flights.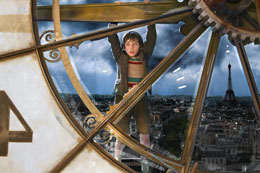 And entertain Scorsese does. Paris through the eyes of Hugo is a splendorous place, rendered in rich blues and yellows with an enormous amount of period detail and a fantastical slant. This isn't realism, this is fantasy come to life with loving care to resemble a nostalgic dream or perhaps the visually inventive film sets of silent movie pioneer Georges Méliès.
There is always movement. Scorsese shoots through always-turning cogs and wheels and through the faces of clocks to bring to life the world behind the station. Out in the train station itself, the camera almost always has a low position to emphasize the kids' point of view. Adult bodies rush by at breakneck pace, and it all threatens to get overwhelming when they are on the "outside."
The screenplay, adapted by John Logan, does a decent job tying together the themes of the movie: abandonment, illusion, dreams, love of cinema, the inevitable passage of time, and the idea that damaged people can be fixed like broken clocks. Sometimes this integration is seamless, but as the movies' point-of-view switches from the children to Kingsley (who turns out to be Méliès himself), the movie lurches around a little bit.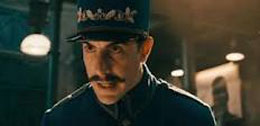 It also never quite gets enough sure comic footing, despite a subtle and physically expressive performance from Cohen. That's not to say it isn't charming as hell, especially without relying on much dialogue at all, but the jokes that are spoken out loud just aren't always that funny.
Once the movie shifts gears and becomes about Georges Méliès and the inventive silent shorts he made at the dawn of film production, Scorsese turns to a number of beautiful recreations from this era featuring all the ornate Méliès sets and costumes in full color. Then he goes a step farther and renders some of those surviving films in flat, layered 3D that gives them new life.
Hugo makes a potent argument for films being the realization of dreams, and it doesn't shortchange its characters either. There are real moments of danger, clear consequences, and sympathetic characters all around, so when tears come at the end of the movie, they feel earned.
Scorsese's love letter to the power of cinema is itself pretty powerful stuff.