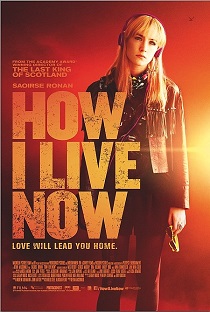 This review appeared in slightly different form on the Scene-Stealers Lawrence.com blog.
The supernatural-inflected teen romance genre butts uncomfortably up against an apocalyptic survival story in How I Live Now, which opens this weekend at AMC Studio 30 in Olathe and Liberty Hall in Lawrence. There are some authentic moments that give the film an edge over the typical fantasy-romance fare, but the film's tagline on the poster ("Love will lead you home") is an unfortunate road to go down, considering its potential.
The journey from bratty to maturity is a quick one for the film's main character, and it's brought about by—what else?—her desire to be reunited with her boyfriend. Ugh.
In the near future, an angry American teenager named Daisy (Saoirse Ronan from Hanna and The Lovely Bones) is sent to live in the English countryside with her distant cousins. Military troops at the airport and planes flying overhead tell us that things are not swell in the U.K. A worsening worldwide political situation turns violent when a nuclear bomb is detonated in London (in a powerful scene that the film never again lives up to), and the kids all become separated.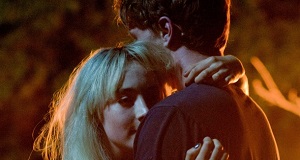 Director Kevin Macdonald can't quite bring the different tones of Meg Rosoff's award-winning young adult novel together. Daisy's initial steadfast resistance to life with her British cousins doesn't last long, freeing her up for an unconvincing and brief romance with eldest cousin Eddie (George MacKay). This relationship forms the basis for Daisy's burgeoning self-confidence, as she follows some sort of psychic connection (not to mention her own nonstop self-help inner monologue) in the hope of reuniting with Eddie again.
Telling the story from the perspective of a self-absorbed teenager is both a blessing and a curse. When World War III happens, it's shown only on the periphery, forcing the audience to fill in the blanks about the bigger picture of global chaos and concentrate on Daisy's situation. As her conflicts become more typical of the genre (which was especially crowded this summer), however, there aren't any new insights to unearth.
Ronan is prickly and her portrayal is unusual, lending a certain amount of angsty authenticity to Daisy, but How I Live Now borrows too many bad habits from end-of-the-world movies and heavy teen romances to become a convincing coming-of-age tale with anything new to say. There is a certain maturity and realization for Daisy by the end of the film, but too many overly familiar roadblocks on the way.