I usually enjoy animated films in all shapes and sizes, but I can sum up my heightened interest for Hotel Transylvania in two words – Genndy Tartakovsky.
For those who don't recognize the name, Tartakovsky is responsible for creating Dexter's Laboratory, Star Wars: Clone Wars, and a little slice of awesome known as Samurai Jack. Tartakovsky also help produce The Powerpuff Girls (and write my favorite episode of the series).
Although Hotel Transylvania isn't Tartakovsky's creation, you can certainly see his fingerprints all over the film in a script he helped punch-up and his influence to push the movie towards a more high-energy animation style resembling Tex Avery's classic cartoons. The result is a fast-paced, zany comedy with just enough of the director's deft touches and humor to make it stand-out from more generic animated fare.
At times the film certainly panders with obvious (and even cheap) jokes for the kids, but Tartakovsky's take on a hotel for monsters is better than it has any right to be and should satisfy kids and most adults as well.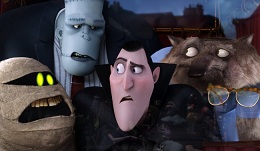 The film centers around Count Dracula (Adam Sandler) and his 118 year-old daughter Mavis (Selena Gomez) who he has raised alone, and apart from the human world, since the death of his wife. In the world of monsters, humans are the dangerous creatures to be feared. To help keep his daughter safe, Dracula built a hotel deep in Transylvania as a safe haven for all monsters, hidden from the outside world and the humans who persecute their kind.
As the film opens, Dracula is preparing festivities for his daughter's birthday and welcoming all his old friends who include Frankenstein (Kevin James), Murray the mummy (Cee-Lo Green), Griffin the Invisible Man (David Spade), and Wayne the werewolf (Steve Buscemi) and his litter of rambunctious youngsters. With everything going according to plan, including Dracula's latest scheme to quell Mavis' wanderlust to journey out into the human world, the arrival of a single uninvited human guest (Andy Samberg) threatens to ruin everything.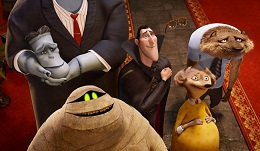 Unwilling to kill the young man, and unable to have a human in the hotel, Dracula does the best he can and dresses up Johnny and passes him off as Frankenstein's cousin, and his party planner. What he doesn't account for is how popular "Johnny Stein" will be with the rest of his guests, particularly his smitten daughter.
From there the story is pretty simple: Dracula tries to throw his daughter a 118th birthday bash to remember while not letting and of his guests find out the truth about Johnny or let the two youngsters fall in love. You can certainly guess the main beats of the story, and how the film will end, but the presentation, some very impressive action sequences (especially in 3D), and entertaining versions of all these classic horror monsters make it an enjoyable, if predictable, ride.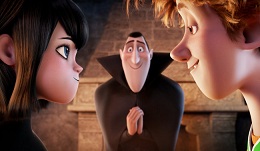 Sandler is better than I expected as Dracula, and far less annoying than in many of his recent films, and Gomez is a nice casting choice for Mavis. Of the supporting characters, Buscemi's beaten-down family man and his unruly brood were definitely my favorites (although the fluffy Hydra is cute as well). The design and look of the film is a hell of a lot of fun, and I enjoyed seeing someone take a run at kids' monster movie who comes from a far different perspective than Tim Burton or Henry Selick.
The film is more comedic than scary, and most of the children in the audience seemed to have a good time (although a couple of kids around four years old or younger did cry out at times).
I viewed Hotel Transylvania in 3D, which was impressively done, and I'd certainly recommend it in either 2D or 3D. However, on a personal note, there was one long extended action sequence involving Dracula chasing and battling Johnny around the hotel where the non-stop action did strain my eyes a little as the action kept ramping up and didn't slow down for breather. For those who have had issues with 3D in the past, I'd recommend cautiously remaining in two dimensions.