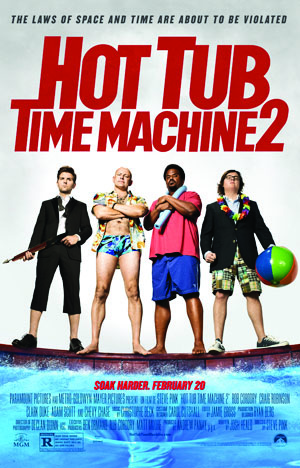 [Rating: Rock Fist Way Down]
There are a couple of kinds of sequels. The Hunger Games movies keep everything open ended, to keep audiences coming until the last movie. Comedies like the Hangover 2 or 22 Jump Street were spawned from a both commercial and box office success, so naturally, studios wanted to keep the gravy train rolling.
Five years ago, Hot Tub Time Machine opened to decent reviews and a third place finish at the box office in its opening weekend, behind How to Train Your Dragon and Alice in Wonderland, which was in its fourth week. I enjoyed the film. It was a fine movie that has turned into a good cable movie, something I'll watch if I'm doing nothing on a Saturday afternoon.
When Hot Tub Time Machine 2 was announced, I was indifferent.
I walked into the theater, hoping lightning would at least strike twice and director Steve Pink would churn out another good movie. Lightning did not strike twice.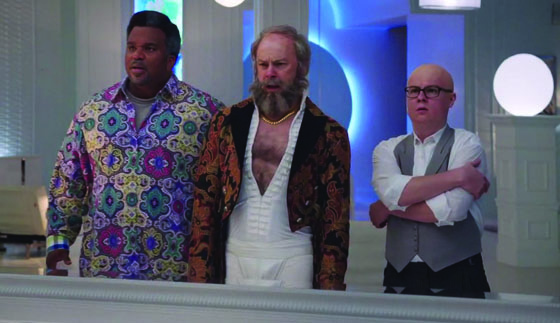 Lou (Rob Corddry), Nick (Craig Robinson), and Jacob (Clark Duke) all return to travel to the future this time, hoping to find out who has murdered Lou. Missing from the fold is Adam (John Cusack), who is mentioned twice, once in passing and then to introduce another character. The film never really acknowledging why he isn't around, though. On Twitter, Cusack has mentioned several times that he just wasn't asked to return. The filmmakers did Cusack a favor. Three is an odd number, so to round out the gang, Adam's son, Adam Jr. (Adam Scott), to fill out the last spot.
Lou is a despicable character, and it hurts my brain trying to figure out how he has friends who care enough to help him catch his murderer. Corddry, who's usually pretty funny, does his best, but it just doesn't resonate this time.
Lou, Nick and Jacob travel 10 years into the future, 2025, where not much has changed. There are smart cars, which are smart enough to want to kill Lou for being a jerk. The 1980s were a fun decade to revisit, there was plenty to lampoon. But if a movie goes into the future, but doesn't make it look futuristic, what's the point of being in the future at all?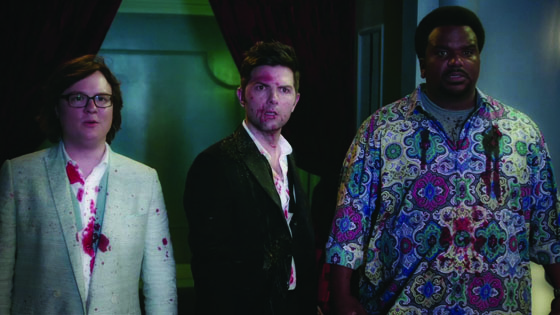 What the sequel lacks is the heart and cleverness of the first. One of my favorite gags from the first film was the one-armed bellboy, and seeing all the close calls he had before he actually lost his arm. The first film also presented Lou in a more relatable way, a downtrodden man whose friends care enough about his well being to try and get him out of a funk.
Lou has made the biggest character leap, while Nick and Jacob flounder unchanged. Adam Scott plays Adam Jr. as a more exaggerated version of his Parks and Recreation character, which brought the occasional smile, but not what I was hoping and expecting.
The jokes in HTTM2 either fall flat or start funny, but then get beaten like a dead horse. This was not a necessary sequel. The film even wastes a Chevy Chase cameo, which didn't even make sense because Chase's character worked at the lodge in the first film, but Lou has since bought the hot tub for his home. So what is he even doing there? The sequel lacks any sense of wit and brains in its humor. They've gone backwards and forwards in time, so hopefully there's no third film with the gang traveling to another dimension.