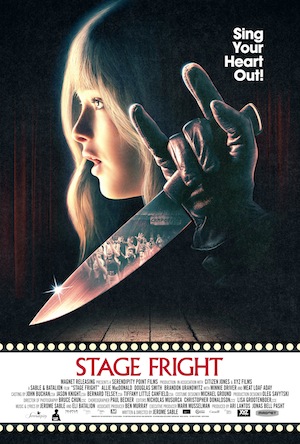 This review of Stage Fright appears originally at Lawrence.com.
Opening this weekend at the Screenland Armour and on-demand/VOD outlets is Stage Fright, a hybrid musical-slasher film that sounds like a lot of self-aware fun in theory.
Unfortunately, writer/director Jerome Sable fills his script full of so many leftover plot elements and references to other movies that it chokes the life right out of it.
Allie MacDonald is the girl at the center of a bunch of killings that are even more nonsensical than usual, at a summer camp for the performing arts that's run by none other than Meat Loaf.
Her mother (Minnie Driver) was murdered on opening night of a big Broadway play, and now the same masked killer — who warbles like Weird Al doing Christian Bale's Batman, enunciating every word in that musical theater way over the top of ridiculous thrash metal tunes — is stalking her camp.
It's strange to hear kids break out into song after a gruesome stabbing, and there's a certain amount of Glee in watching some of the snobbier types get theirs, but Stage Fright is never a film that gets you involved. Instead, it holds you at a distance, poking fun at everything.
For all its references to the films of Brian De Palma (Phantom of the Paradise, Carrie, Body Double), it has more in common with the Scream franchise if anything, including a reveal of the killer that's ho-hum at best.