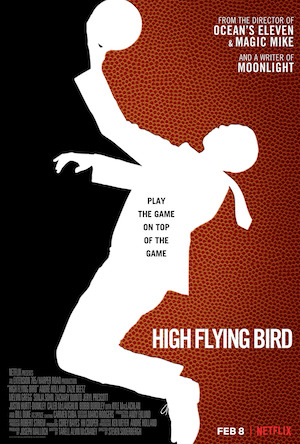 [Rating: Minor Rock Fist Up]

Steven Soderbergh's latest iPhone feature film, High Flying Bird, plays like Jerry Maguire on moprhine, as it goes behind the scenes into the high-tension world of professional basketball owner-player negotiations during a labor dispute. It's a decent flick, if at times slow, that survives thanks to a decent script and a solid lead performance that manages to fend off Soderbergh's attempts to sabotage the movie with his creativity.
Andre Holland (42, Moonlight) is Ray, a sports agent who finds his career is on the line when an NBA lockout starts to put a financial strain on Ray's agency, his rookie client (Melvin Gregg, unREAL), and Ray himself. As the lockout draws out, tensions grow higher and Ray begins to manipulate the players union and the owners by challenging players to embrace the facts that the league needs them to make money more than the players need the league for money.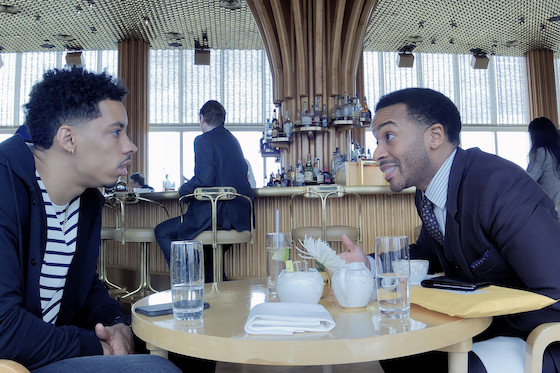 It's a slow burn of a film that may only pay off if you have a vested interest in the NBA and the business mechanics between the players and the owners. But script, from Tarell Alvin McCraney (Moonlight), weaves a compelling tapestry about the fine line that stands between what how much of a player's image the teams and the leagues have ownership and control over.
Holland is terrific, carrying the movie on his back with a quiet confidence. The rest of the supporting cast — including Kyle MacLachlan (Twin Peaks) as the NBA owners' negotiator, Sonja Sohn (Broad City) as the Players Union rep, Zazie Beetz (Deadpool 2) and Zachary Quinto (Heroes) as Ray's boss — are up to task as each of them duck and dive in and out of Ray's life during this hectic period.
The narrative is sprinkled intermittently with documentary style testimonials from real NBA ballers Reggie Jackson, Karl Anthony Towns and Donovan Mitchell dispensing their truths about the trials and tribulations of being a rookie in The League. It adds substance to the story without feeling shoe-horned.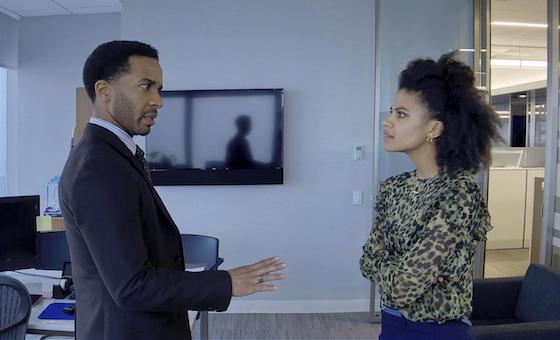 While the script is mostly solid, it does at times strain a little tedious. Par for the course for a Soderbergh film, this flick is very dialogue heavy and for a movie about basketball, there is very minimal basketball action. But the biggest distraction in the movie is Soderbergh's determination to turn every scene into a laboratory for new camera angles. I may be exaggerating (or maybe I'm not) but it seems like dude uses every camera angle possible in every scene.
Soderbergh has always been a visual storyteller and this film, as with his previous flick, unREAL, was shot on an iPhone. But while, I'm all for experimentation in the filmmaking process and challenging the audiences expectations, the constant rotating of angles is maddening at times and in a few scenes takes away from the drama unfolding through conversation.
High Flying Bird overcomes, and while it may not have a widespread audience appeal, it's a Moneyball-esque look at the the black and white balance of power in the NBA.
High Flying Bird is currently streaming on Netflix.