First things first, I have to declare a serious bias against "Sex and the City."
I have very publicly stated, to both friends and strangers, my curiously strong dislike of majority of the principle cast, and my objection to the general tone and to the repulsively materialistic center of the popular TV series and its storyline. Going into the film I had experienced, at most, a grand total of 30-60 minutes of the television show that inspired the film (and a massive global audience of adoring fans).
As I sat there in the theater, I felt much like I did watching Micheal Moore's "Bowling for Columbine" as an American in Canada—that it was possible that the people around me could somehow feel my unwanted presence. Like a demon in church or a Democrat at a Republican fundraiser, I was way out of place, and each and every time I glanced at my cell phone at the unmercifully slow-moving hands of time, I did so covertly so not to expose myself.
I admit that to describe my expectations as low would be a profound understatement. With that said, if you're a big fan of the series, or if you simply can't accept criticism from someone who's this willing to be forthcoming with this confession of personal bias, then please read no further—and believe me I won't fault you if you don't. However, if you do read on, and the previous statement applies to you, then I promise not to feel bad if I offend you.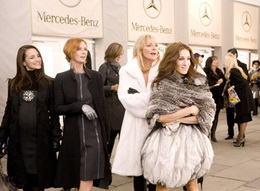 "Sex and the City" the movie can be summed up very quickly. It's three new episodes of the long-standing series—six seasons from 1998-2004—stretched out over a two-and-a-half-hour long movie in which everything you assume will happen does happen, and sometimes more than once.
The production quality and writing are consistent with the series and it's obvious—even to someone who isn't a fan of the show—that this film doesn't miss an opportunity to give the audience everything it wants from its four infamous designer-label-drenched heroines Carrie Bradshaw (Sarah Jessica Parker), Samantha Jones (Kim Cattrall), Charlotte York (Kristin Davis) and Miranda Hobbes (Cynthia Nixon).
Like a "The West Wing" film that concocts a way to give President Bartlett a third term, or a new "X-Files" movie that is centered around a fully consummated, super-steamy romance between Mulder and Scully, this film panders to its audience perfectly. And for crying out loud, how many times can you reunite these four women in one film? Every fifteen minutes Samantha flies back from L.A. and it's the melodramatic, Mary Tyler Moore-intro-style, life-reaffirming reunion everyone knew was coming when they announced the film was in production all over again. The twist is, I can't imagine anyone was expecting the same thing to happen so many times that even for the most devout fan the over-used device must lose some of its dramatic punch.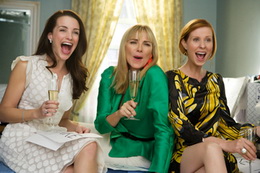 As I watched the film, and since, I have found myself asking the same question … Do real women actually relate to these characters? Or do women relate to these characters like I relate to some overblown macho screen hero like Bruce Willis' John McClane—which is to say not at all, except as entertainment. The fact is, I'm a feminist. I'm all for female sexual freedom and expression, and for female power and equality, but the way sexuality and material excess are depicted in these stories is as grotesque as the worst of the pinnacles of patriarchy that get used as examples of why all men are pigs.
Of course, there's an argument to be made that male chauvinism has been dominant for centuries, and in order to level the playing field, a little female chauvinism isn't unexpected or all that bad a thing in the course of establishing a revolution of true equality. I can only speak for myself when I say that the ideology of gluttony and excess, and the vacant social and personal agendas depicted here—celebrated most in the Bradshaw and Jones characters—are nothing shy of grotesque and exhausting. In many ways, these icons of pop culture do more to undermine feminine power than to encourage it.
There's is no need to summarize the film's storyline, it's fairly straightforward and ready for primetime. The film's opening sequence is a montage of clips from the show that set up each of the four main characters for any neophytes in the house, and illustrates beautifully my argument that the film is nothing but an extended episode or three with a high-gloss finish. I will concede that the dialogue is snappy. The script, written by director/writer Micheal Patrick King, isn't groundbreaking, but the dialogue is fairly dynamic and stands out as the only technical element worth noting. It's not surprising that King seems to have a handle on the mythology of the series since he directed 10 episodes and was a writer on 21 episodes. While the whole damn thing doesn't work for me, it goes without saying that I was not the intended audience. The energy in the theater from the "real fans" is all the evidence I need to know that King delivered where it counts and gave the fans of the show everything they were hoping for.
I didn't care for the film, which is clearly not a shocker, but even worse I didn't care for the message. At the end of the film, Carrie Bradshaw's transcendent moment is realizing that a dress with no labels and a plain-old dinner with friends and family is more important that a $500 pair of Manolo's or the latest Louis Vuitton bag, but it's not like she's going to hit the thrift store and donate her closet to charity, so we can all rest easy knowing that she'll be right back to the shopping spree post-epiphany. Is it just me, or doesn't that offend the intelligent real women in the audience? To find that in the end, their hero Carrie Bradshaw was forced to walk a millisecond in their discounted, Target-bought shoes and realize that living like "normal" humans wasn't all that terrible after all. The culture of celebrity excess in this country has spawned a whole new generation of "entitled," wannabe celeb-utants and this is a film that champions the values that vacuous crowd want so desperately to identify with.
It's entirely possible that because I'm not a fan of the show, I'm seeing these women not as characters, but as caricatures. It is entirely possible that I haven't perceived the substance and depth of "Sex and the City" and Carrie, Miranda, Charlotte and Samantha because the film is geared towards fans of the show and the movie is all that I have to go on. It's also entirely possible that I just don't get it, because I'm a man.
In addition to high fashion and reprehensible socialite behavior, "Sex and the City" is also a story about love and sisterhood. Sadly, those very resonant and real-world themes are drowned out by the acquisitive and rapacious nature of the women in these stories, and by the clearly fantastic exaggerations of real women that they represent. I have no doubt this film will be a huge success, and that the millions of fans who waited anxiously to delight at each and every one of the aforementioned reunions will watch the film repeatedly, and wait with baited breath in hopes of the announcement of more movies.
But as we all know success at the box office doesn't equal successful storytelling, and it certainly doesn't mean it's art. It simply means that at a time when gas prices are through the roof and people are scrambling to stay afloat in a desperate American economy, that millions of people were willing to fork over their hard-earned money to sit in a theater for two and a half hours and watch a story about rich people whose idea of a cutback is two pairs of Jimmy Choo's instead of three.