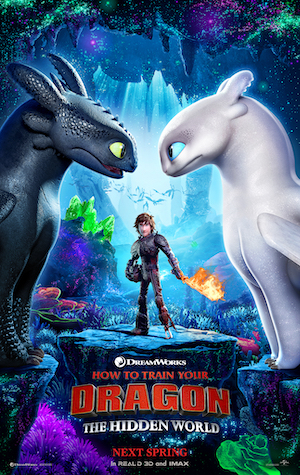 [Rating: Solid Rock Fist Up]

The 'How to Train Your Dragon franchise was introduced in 2010 and it has gone on to establish itself to kids (and parents) as one of the most entertaining and emotionally satisfying animated series this side of the Toy Story flicks.
Those kids, who were little wee ones back in that day, are growing up now and the final installment of this remarkable trilogy reflects that. Simple in its setup, but epic in its execution, How to Train Your Dragon: The Hidden World brings a beautiful and fitting end to the story of a boy and his dragon.
As the third film opens, Hiccup (Jay Baruchel) has established the island of Berk as a true dragon-viking utopia. He and his buddies (America Ferrera, Jonah Hill, Christopher Mintz-Plasse, Kristen Wiig and Kit Harrington among them) are flying around, liberating dragons. They're sloppy and arrogant and poor Hiccup still feels like a boy pretending to be a man, living in the shadow of his father and trying to convince the rest of the good vikings of Berk that he has it all figured out.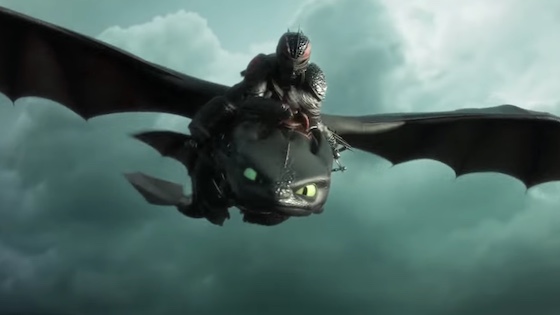 He's also learning that growing up is hard and there are tough decisions to be made and sometimes he can't make them alone. To top it off, the one dude he can count on time and time again, Toothless (who isn't voiced by anyone because he's a dragon), has found himself a woman, a Light Fury.
This begins to present problems, the biggest of which is a dragon hunter named Grimmel (F. Murray Abraham) who has vowed to rid the world of all dragons, especially the last living Night Fury. With Grimmel hellbent on destroying Berk and killing Toothless, Hiccup must find an undiscovered mythical land, The Hidden World, and lead his people and the dragons to safety and prosperity.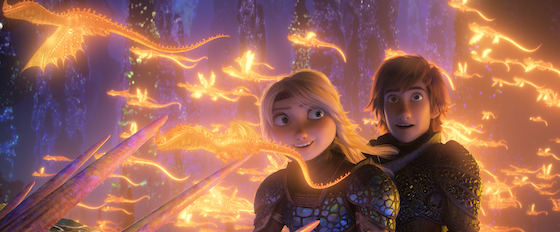 Hidden World gets off to a bit of an uneven start as the script fumbles around trying to show Hiccup and his buddies learning they need to work harder if they're going to be an unbeatable team. However, once the film begins to settle in on character relationships, it settles in nicely. The plot keeps it relatively light while balancing a few more mature themes. You see this is a story of growing up and learning to let go and director Dean DeBlois handles it beautifully, keeping the relationship between Hiccup and Toothless at the forefront, while allowing each of the characters to grow as individuals.
The film is a visual marvel. A journey into the dragon lair is breathtaking. But it's the characters, specifically the dynamic duo of Hiccup and Toothless that will melt hearts and stream tears from more than a few eyes. Like I said, this is a story of growing up and letting go.
For me, it's a bittersweet end, having a young boy who has grown up with these characters and now is preparing to enter his teenage years. How to Train Your Dragon: The Hidden World is a fitting end to an amazingly fun and endearing story.