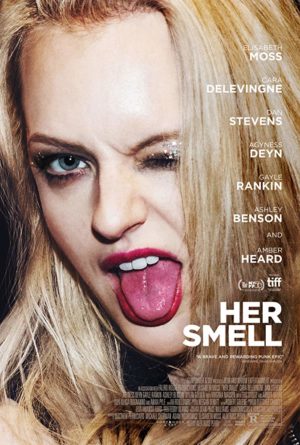 [Rating: Solid Rock Fist Up]
The nineties – those early nineties – were an amazing time for music. Pre-social media, pre-Napster, pre-Kimye, pre-smart phone. Cobain, Hoon, Cornell, Staley, Weiland – all alive and contributing to a newly minted musical style – alternative (which is now a mostly meaningless adjective).
The ladies were making their own way in the riot grrrl movement – Bikini Kill, Babes in Toyland, everyone's favorite troublemaker Courtney Love, Kim Deal doing anything. And, in the fictionalized 1992 of Her Smell, written and directed by Alex Ross Perry, the punk girl 90s group Something She.
At the moment the film opens, lead singer Becky Something (Elizabeth Moss) is having a post-show drug and ego-fueled melt down, threatening to take her band, family and future with her.
Becky (a character that seems more inspired by Axl Rose than Ms. Love) is teetering on the edge of has-been. Surrounded by drugs, shamans, dependents and competitors, Becky spins violently from battles to bumps and back again in a truly exhausting, emotionally terrifying opening scene.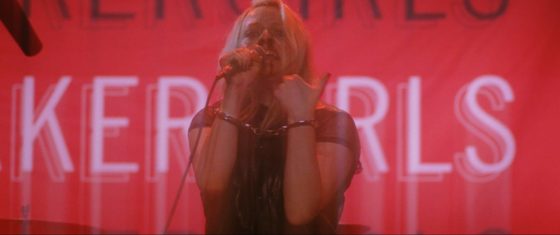 And Moss is absolutely incredible in this completely scripted role (in an interview, she said nothing was improvised – that in itself is impressive, given the chaos of her performance).
Moss isn't afraid to be battered and unattractive and manic and disgusting and cruel and pathetic and vulnerable – and it makes her Becky a tour de force of emotional havoc. I will say "Norma Desmond" and just leave that here. While her most famous characters are known for their restraint (Peggy and Offred), Becky doesn't have any.
Becky destroys relationships with her band mates (Agyness Deyn and Gayle Rankin), baby daddy (Dan Stevens), manager (Eric Stoltz), and mother (Virginia Madsen) and we see each brawl – the 1992 show at the beginning of the decline, the recording session where the newer, shinier band shows up to record (played by supermodel Cara Delevingne and leggy young things Ashley Benson and Dylan Gelula), and the doomed comeback show with La Lohan level stunt-queening.
And that could be the whole movie. But it's not. And that's where the exhaustion sets in – as the movie shifts to what turns out to be the final third.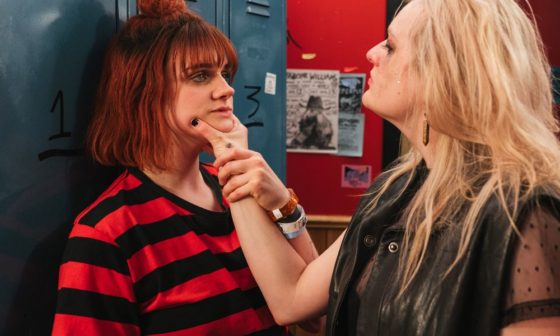 Perry does a phenomenal job at reintroducing us to a character we realize we've never met – we've only ever seen her fucked up. But it's so late, and it's so hard to care about redemption (despite a beautifully performed piano cover of Bryan Adams that absolutely made me cry).
And there are several brilliant things about the movie as a whole – the absolute female domination of the cast, for one thing. The men that are present are caretakers, not rock stars, so the violence is coming from a woman – without the threat of male violence – and it gives the women the power and voices. It passes the Bechdel test with flying colors.
The movie is divvied into five vignettes that could have been a miniseries. Cutting them shorter for a feature made for what felt like a very long movie, but it allowed for a completely immersive experience into defining moments for this band. Perry's insistence on putting us intimately into the middle of the scenes allows us to feel the chaos of Becky's emotional tyranny up close.
It's a lot, and kind of exhausting. But with excellent performances and creative structure, Her Smell is a sweet little send-up of rock biopics.