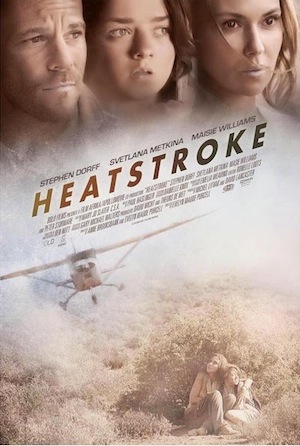 [Minor Rock Fist Up]
Much like the wonderfully-shot African landscape, despite being barren and slow at times, there's a lot to appreciate about Evelyn Purcell's (Borderline, Woman Undone) Heatstroke (on VOD, iTunes, andin theaters on July 4).
While it isn't perfect, there's enough good going on in Heatstroke that the viewer is neither bored, nor overwhelmed with plot… but neither is the film particularly groundbreaking in any manner.  Contained within the hour and a half of film, however, is a heartwarming tale of survival under terrible conditions.
Paul (Stephen Dorff) is a nature researcher and college professor who focuses much of his work on the hyenas of Africa, has a thirteen-year-old daughter, Jo (Game of Thrones' Maisie Williams), and a Russian girlfriend, Tally (Svetlana Metkina).  When his ex-wife informs him that Jo has gotten herself into trouble with the police for possession and presumed usage of drugs, Paul offers to take Jo out on his next expedition with himself and Tally, thinking that getting closer to nature will be good for her.  Unfortunately, a pair of South African arms dealers have other plans when Paul tries to confront them after stumbling upon their poaching of a rhinoceros, and Tally is forced to protect Jo when Paul is murdered.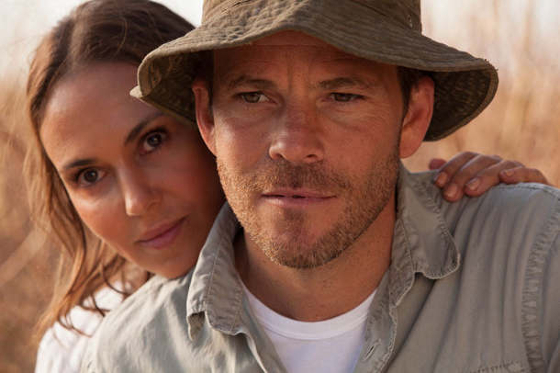 Paul begins the film with a lecture on how hyenas are nature's misunderstood little gems.  He cites their top speed, bodies of pure muscle, and group dynamics in nature, and notes that he's known several "individuals" through his travels back and forth to their natural habitats in his studies.  The hyena becomes a good metaphor for Tally and Jo, being that you never get to know them until you see them put into the harrowing situation of running from the arms dealers.  Tally becomes a temporary parent, despite Paul's earlier remark about her not being able to relate to being a parent, and Jo becomes much more than an angsty teenager who's lashed out because of her parents' divorce.  Part of Tally's personal transformation comes from being forced to face her own mortality when she kills one of the arms dealers.  "I guess we're not dealin' with a fuckin' house wife," the ringleader grumbles.
Additionally, aside from the arms dealers that Jo and Tally must escape, the African wilderness itself takes on the form of an antagonist, offering obstacles such as poisonous snakes, dust storms, wild animals, and scarcity of water. The motif that the duo must overcome not only a foursome of heartless poachers and arms dealers out to erase witnesses to their crimes, but also the environment in which they are evading said villains serves as a fantastic way to create tension in an already-tense situation.
For me, the best part of the film was Maisie Williams, but not for the reasons you'd think.  In Game of Thrones, she plays miniature badass Arya Stark, who fears no man and has a comeback for every insult thrown her way.  But in Heatstroke, Williams gets to show her versatility as a young actress and convincingly plays troubled youth Jo, who struggles with her parents' divorce and just wants to play games on her iPad.  Her character is dynamic in the film, changing from shutting out both Tally and her father, Paul, but ultimately changing and caring for Tally and as previously mentioned, viewing her as a sort of surrogate caretaker.  Heatstroke is, according to IMDB, only the fifth major role she's landed, and she does a great job of helping Metkina carry the film, which boasts only a handful of characters, none of whom are particularly recognizable at first glance.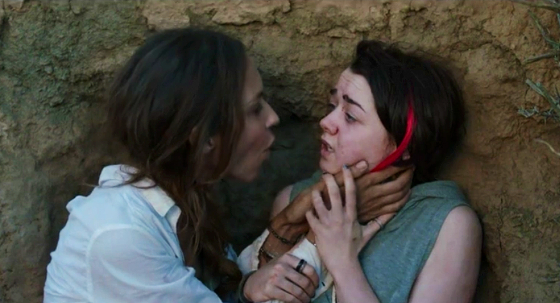 I think one of the better undertones that the film brings up is the culture of poaching in Africa.  It's never really explicitly stated, but the fact that a semi-mainstream film is at least making the subtle statement that confronting a team of poachers and arms dealers is a dangerous affair is not to be ignored, especially in recent light of animals like lions that were thought to be doing well still in terms of population being put onto the endangered species list.
Overall, Heatstroke is an enjoyable but ultimately forgettable film, but that doesn't mean it's bad.  I think that this will be one of the early roles of Maisie Williams' acting career that people point to her ability to play different characters, and for the additionally gorgeous landscapes of Africa.
Let's just hope there's no drought of roles for her in the future.