When writer/director Todd Haynes decided to make a movie about Bob Dylan, he was faced with a pretty big question. How do you make a biopic on one of rock n' roll's biggest chameleons?
Rather than go the straight route and chronicle the influential songwriter's entire career with a happy epilogue tacked on about his big, late-career Grammy wins, Haynes was inspired by something different—what the filmmaker terms, in onscreen titles—to be the many lives of Bob Dylan.
Not only is there no character named Bob Dylan in "I'm Not There," but there are as many as six different actors (Ben Wishaw, Christian Bale, Heath Ledger, Cate Blanchett, Richard Gere and Marcus Carl Franklin) playing a version of the man, and they are all connected in theme only. Plot-wise (which is what any normal feature film relies on), they are connected by the barest of threads.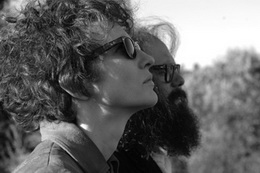 One big question about Dylan after D.A. Pennebaker's riveting verite documentary "Don't Look Back" was whether or not Dylan was as controlling and image-conscious as he seemed. If that question remains unanswered, then Haynes surely provides a case for the need for evolution.
With Cate Blanchett's fierce turn as Jude Quinn, shot in black-and-white like Pennebaker's doc, Haynes suggests that, at least in one case, it was survival instinct that forced Dylan to re-invent himself. This was as least partially due to newfound celebrity and the incessant nagging of a press that was hellbent on crucifying him. Standing in front of a statue of Christ on the cross (and next to David Cross as Beat poet Allen Ginsberg), Quinn bitingly requests that the Son of God play some of his old stuff.
Blanchett has been widely praised for her performance (and with good reason, she is a chameleon herself), but let's set the record straight. She gets most of the good stuff—Dylan going electric and getting booed at the Newport Folk Festival, the cry of "Judas" from a 1966 Manchester crowd, the confrontational press conferences, and the motorcycle wreck. Poor Richard Gere wanders around looking for his dog and runs into Jim James from My Morning Jacket (with Dylan's white Rolling Thunder Revue-era face powder on) singing "Goin' to Acapulco" and Bruce Greenwood as Pat Garrett in bad old-man makeup.
There was always something driving Dylan to explore another facet of his personality, and Haynes piles on parallels upon composites upon analogous characters and situations to get to the bottom of it. "I'm Not There" is the most narratively adventurous outing in recent memory, and mostly, that's a good thing. The movie feels every one of its 135 minutes. There may be moments that feel as if the film has suddenly switched tracks and suddenly started over (as Dylan was wont to do), but there are far more thrilling scenes that are densely packed with multiple meanings and challenges to the viewer.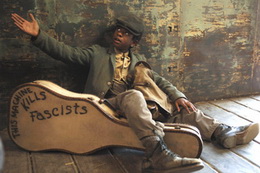 It helps, of course, to have a working knowledge of Dylan and his career, or many of these key observations could be lost.
The central human thread of each "version" of Dylan is not easy to track, but each individual story contains elements of the others. While there isn't one protagonist to follow through the cultural and musical collage of "I'm Not There," there are waves of ideas that keep coming back. Rather than a lead character, there are lead themes. Haynes presents a host of contradictions. This is a filmmaker working at the top of his game, with imagination to spare. (The multi-layered film and sound editing is something very special, and it would be a shame to see the Academy ignore it come Oscar time.) Essentially, "I'm Not There" is a two-and-a-quarter hour experimental film that riffs with the same concepts that Dylan did as a performer.
An ingenious example of this is during a scene where an 11-year old black boy who calls himself Woody Guthrie (Franklin)—after his folk-singing idol—is taken in by a Technicolor suburban white family that looks as if they walked right out of Haynes' "Far From Heaven." They are smitten with his playing and singing, convinced he's destined for greatness, but then horrified when the juvenile delinquency center from Minnesota (Dylan's home state) calls looking for him. Later, the elusive and enigmatic star Jude Quinn is exposed by pesky journalist Mr. Jones (Greenwood) as nothing than a suburban white kid—the very thing that the family from before who loved Woody so much represented. In this way, "I'm Not There" is constantly chasing its tail.
By mirroring Dylan's concepts with his music (as sung by him and covered by a slew of current artists), and avoiding both the biographical route ("Walk the Line") and the songs-tell-a-story route ("Across the Universe"), Haynes has created the most provocative and electric examination of an artist in many a year.
[youtube pR8YuIGqWi4 Time vs. Dylan]
[youtube u2MgdF6GWi0 Dylan gets branded a Judas]