The sixth filmic adaptation of J.K. Rowling's enormously popular book series arrives in theaters with an inordinate amount of baggage from five movies of myth-building and expectations, so it almost seems set up to fail.
While "Harry Potter and the Half-Blood Prince" is only the second film (along with "Prisoner of Azkaban") to deliver a visually stirring package, it is the first to drop the ball so completely in the storytelling department.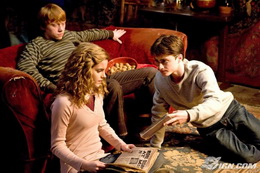 Director David Yates returns to Hogwarts for his second "Potter" film (he'll also helm the two-part finale "Harry Potter and the Deathly Hallows") and with director-of-photography Bruno Delbonnel, he brings some impressively atmospheric cinematography to the table. It foretells a sense of impending doom that is welcome, albeit never quite explained in the bleary-eyed screenplay by "Potter" veteran Steve Kloves.
In Rowling's rich fantasy world, the themes are embedded deep in the details, and "Half-Blood Prince" has none of them. It's like a rough sketch that the filmmakers are hoping Potter fans will fill in with memories from the novel.
Two budding romances—between Harry (Daniel Radcliffe) and Ginny Weasley (Bonnie Wright) and also between Hermione (Emma Watson) and Ron (Rupert Grint)—are badly mishandled. Although a significant amount of screen time is spent on them, the relationships are vague and forced, more in line with the kind of puppy love you might expect from one of the earlier films.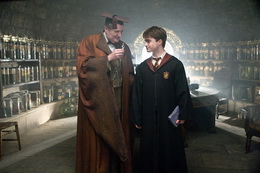 Harry finds an old textbook once owned by the "half-blood prince" and the request of Dumbledore (Richard Gambon), Harry must get Professor Slughorn (Jim Broadbent) to come clean about an old secret. The importance of the textbook, however, is barely touched on. By the time the identity of the half-blood prince is revealed, its only significance is that it's the title of the film.
Plot holes abound. At the beginning of the movie, death eaters are raining down on the Muggle world, but are never mentioned again. The supposedly questionable loyalty of Snape (Alan Rickman) is obvious from a maddening amount of foreshadowing.
Many of the film's "mysteries" don't work because their central conceit is that we aren't supposed to be sure what's really happening. Yet each one of these plot points are robbed of their inherent drama because they are all too obvious. If the series is supposed to mature and be about becoming an adult, Kloves would be smart to start treating the viewer like one.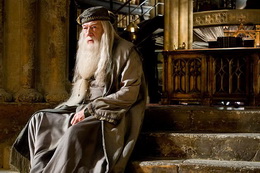 Another problem is that Gambon, who took over when Richard Harris passed away, has never really connected with Radcliffe. As a result, the pupil/mentor relationship between Harry and Dumbledore seems distant and amorphous. The final showdown with Harry and the wizard is unforgivably bungled, as Harry's courage is held in check in the most contrived way possible.
If you want to see a well-done supernatural story as a metaphor for growing up, watch the TV series "Buffy the Vampire Slayer." At least its writers had seven seasons to sort out the messy teen-to-adult transition.
For more: Here is a print review from an obsessed Harry Potter fan, contributor Whitney Mathews, and my on-camera video review with J.D. is below.