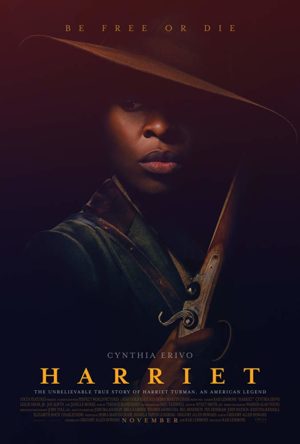 [Rating: Swiss Fist]

Only a couple of years ago, the U.S. Mint (the people who make the money) announced that Harriet Tubman, whose legacy was built on helping slaves escape to freedom, would one day grace the front of the 20-dollar bill. Though politics have stalled this production, almost 200 years after the birth of this heroic woman, we're still talking about her. She is one of the most important and historical figures in the fight for freedom and this new film, Harriet, (directed by Kasi Lemmons) is the first feature film that is solely focused on her and her courageous doings. It is unfortunate that it feels more like a History Channel movie of the week, but the overall scope of the movie still accomplishes what it sets out to do.

In this movie, Harriet Tubman is portrayed by Tony winner Cynthia Erivo. The movie focuses on Tubman's slave life in the first half. Her owner Gideon Brodess (Joe Alwyn) takes charge of the household after the death of his father and starts to turn on Tubman and her family after showing at least some compassion in his youth, as shown through flashbacks. Tubman's husband, John (Zackary Momoh), already a free man, proposes that Harriet asks for her freedom because of their marriage, to no avail. This leads her and John to escape one night and have her journey from Maryland to Philadelphia, where the two can be free. However, Harriet slips away in the night and doesn't take John with her in the fear they both will be caught and sent back to Brodess.

When Harriet does make it to Philadelphia, the rest of the movie focuses on her relationship with William Still (Leslie Odom Jr.), an abolitionist, and Marie Buchanon (Janelle Monáe), proprietor of the inn Tubman stays in. With Still's help, Tubman decides to journey back to Maryland to help more slaves on Brodess' plantation escape to the north. This perilous journey on the Underground Railroad made Tubman an instant legend among those who sought freedom, and those who wanted to catch and kill this mysterious shadow, lurking in the night to help their "property" escape.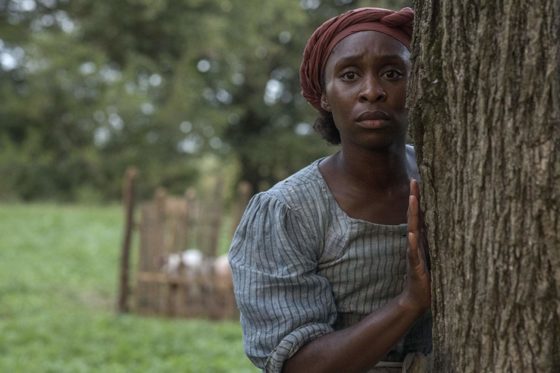 Unfortunately, this movie really doesn't feel like it captures this story the best it can. As stated, it feels like a very proud History Channel Sunday night movie that tells you it's going to be important to watch and talk about. The script has one-liners that make me wonder how somebody got paid for that. "I'll be free or die" before jumping into a river made me cringe because it didn't have to be said. This movie could have taken a different direction and had less dialogue and more imagery like 12 Years a Slave did, but it takes the route of cheap biopic. The pacing is all off in this, and it drags repeated plot lines through its two hours. Even the last few scenes are bizarre in having Tubman in this quasi-War/Western moment that I get is historically accurate, but played out so strange and sudden.

That's not to say there's a lot of mediocrity because Erivo is in this. As Tubman, she is perfect for this role. It gives her a chance to shine and really play the role well as somebody who knows the troubles ahead, and yet has no fear each time she returns for more people, with the dangers growing. The most underutilized person in this is Janelle Monáe, who despite being on the poster is only in the movie for about 10 minutes.

This biopic is bound to draw a good crowd from good word of mouth. That's good, but in the long run it feels like this could have been polished up a whole lot more. I question if it's because the way Hollywood works, they were too afraid to make a more expensive film about Tubman, arguably one of the most important figures in the abolitionist movements.