A Very Harold & Kumar 3D Christmas kicks off the holiday season right after Halloween, which is appropriate, because this movie is kind of a freak show.
After growing apart in recent years Harold (John Cho) and Kumar (Kal Penn) are brought back together for one more magical night of crazed debauchery. Harold now has a wife (Paula Garcés), a job on Wall Street, and a host of in-laws led by his intimidating father-in-law (Danny Trejo). Kumar, on the other hand, is still spending his days getting high without a job, a girlfriend, or a care in the world.
A trip to Harold's to drop off a Christmas package begins a night of miracles (okay, more like impossibly contrived sequences and funny bits). These involve the horny daughter (Jordan Hinson) of a gangster (Elias Koteas), a baby on drugs, a nifty robot that makes waffles, the search for the perfect Christmas tree, Santa Claus (Richard Riehle), and a reunion with their woman-obsessed pal Neil Patrick Harris.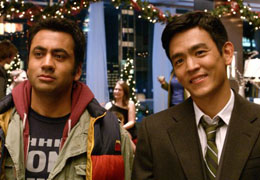 The third entry to the franchise is more of the same with some elaborate raunch and quite a bit of pot smoking. Some of the jokes work, some don't, and one especially (and homage to A Christmas Story) is sure to make you wince.
The film isn't without it's problems which include an underwhelming ending for both characters. Kumar's epilogue especially stretches believability to the breaking point in a film that includes a baby high on drugs, Neil Patrick Harris getting a handjob in heaven, and someone shooting Santa Claus in the face with a pump-action shotgun.
Aside from John Cho, Kal Penn, Paula Garcés, and Neil Patrick Harris, a few other familiar faces from the earlier films make an appearance including David Krumholtz, Eddie Kaye Thomas, and Danneel Ackles as Kumar's ex-girlfriend Vanessa who drops a bombshell on her high as a kite former lover.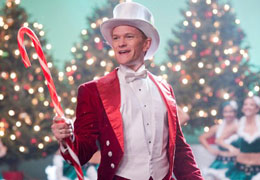 The heart of the film is about two friends who have grown apart coming back together over the holidays and Kumar learning a lesson from his best friend about wanting to go out of your way to make the people you love happy. For a Harold & Kumar film it is a little sappy, and certainly wears its nostalgia on its sleeves (we get several references to the first two films), but fans of the franchise should have fun with the latest sequel.
One final note: I saw the film in 3D and although its certainly not necessary to view the film that way, several of the movie's sight gags are improved by the technology (including all the smoking sequences).
Oh, and if anybody wants to get me a Wafflebot for Christmas, I wouldn't turn you down.