With a title like "Harold and Kumar Escape From Guantanamo Bay," it would seem that the makers of its equally ridiculously-titled predecessor "Harold and Kumar go to White Castle" had returned with a more politically flavored sequel—one that expanded the racial stereotype humor of the first to and set their comic sights a little higher.
But after a promising setup, it is clear that writer/directors Jon Hurwitz and Hayden Schlossberg instead will state and restate the obvious, perfectly content to rehash the same race-related jokes that have been around forever.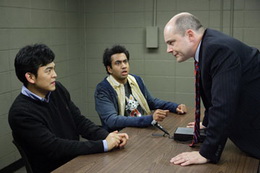 I get that having your heroes be a Korean American and Indian American who are racially profiled at every turn is an indictment of that very behavior. Taking these kinds of jokes to the extreme that a modern R-rated picture allows, however, is just not new enough or funny enough. "Guantanamo Bay" ends up coming off like an extended Carlos Mencia sketch, and it certainly can't justify the film's short 100-minute running time.
Hurwitz and Schlossberg move up to the directors' chairs after only penning the first movie, and their inexperience shows. John Cho (Harold) and Kal Penn (Kumar) have an affable camaraderie together, but the movie feels strung together and gets a lot less than half the laughs it was going for. (Also, does anybody else notice how much older these guys look now?)
When a homemade bong gets the hapless pair mistaken for terrorists on a plane, the one joke that will be repeated ad nauseam throughout the movie is still fresh: White people are racist. But when "Daily Show" alum Rob Corddry is reduced to spitting lame, offensive racist jokes out at an alarming rate, it's not "edgy," it just ceases to be funny. Corddry is so over the top that he just seems desperate, like much of the film.
Besides the usual amount of dick and fart jokes (the movie starts off with Kumar taking a particularly nasty dump while Harold is in the shower—funny!), there are two kinds of jokes in this movie. The script either plays up stereotypes to an absurd degree (throwing pennies at Jews—funny!) or builds them up and then subverts them (thugs with tire irons who want to help change your tire—funny!). Whenever the movie approaches real satire (such as the moment the boys get thrown in Gitmo), it backs down from the challenge (like when they are forced to go down on their captors—funny!).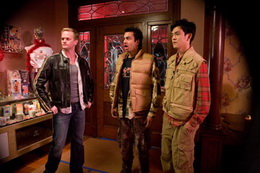 Thankfully, Neil Patrick Harris is back as "Neil Patrick Harris," a 'shroom-eating, whore-mongering maniac who has all the deadpan comic timing of well, "How I Met Your Mother's" Neil Patrick Harris. James Adomian, who has made a career recently out of impersonating President Bush, does another dead-on impression and garners a few more big laughs as well.
Lest you think I don't recognize "Harold and Kumar" for what it is—I do. It's a raunchy, sophomoric stoner comedy with gratuitous nudity and shock humor that tries to shoehorn in two romantic subplots and celebrate America's diversity by endlessly stereotyping it. I like laughing at rich, white people with perfect smiles as much as the next guy, but I guess I somehow expected more out of "Harold and Kumar Escape From Guantanamo Bay."