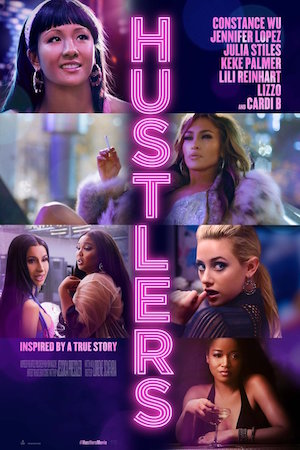 [Rating: Solid Rock Fist Up]

Money is a mental illness…
With money, power and control become a dance that's constantly played by those with disposable income. Every time I passed by Scores New York, the gentlemen's club that is the basis for this true life tale, I saw it on the faces of the entering and exiting patrons. Very much like a low-reward casino, men would venture for a good time and more, depending on how much money they had. They soon learned that sometimes the dancers are truly the ones with the power. It's fitting that Janet Jackson's song "Control" opens Hustlers, a story about money swindles, sisterhood, and the extortion of those in power to be in control. 
Based on a New York magazine article about a group of strippers (Constance Wu, Jennifer Lopez, Keke Palmer, and Lili Reinhart) who ran a con game to drug and rob their rich clientele when times get hard. Despite being set mainly in a strip club, there is little eroticism or libidinous scenes after the main characters are established. Instead, we shown an operation of deception with rich rewards, simultaneously creating a desired family of friends while spinning out of control. It's more trifling than titillating as the strippers' clientele is affected and reduced by the 2008 stock market crash. Just like the traders, the strippers form their own mitigation strategy to cover their dramatic losses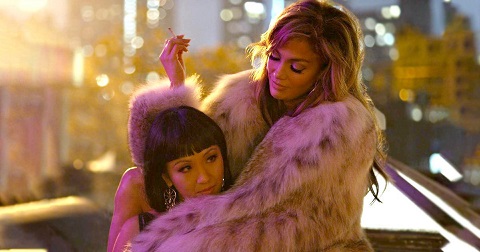 The story may be told mostly through the eyes of Wu's Destiny character, but dammit if this is not Jennifer Lopez's movie. Not only is she the ringleader, she's also the scene carrier every time she on the screen. This is her best performance since Out of Sight. Her Ramona character is authentic, caring, yet crafty. She absolutely looks stunning in this movie. The way her character is introduced in a dance scene will make Fiona Apple's "Criminal" this year's "Pony" from Magic Mike. There are also great cameo performances by musical artists Cardi B and Lizzo, who both needed more screen time to flex their debut acting skills. 
The music blaring from the club and the condos act as time markers. With tracks from 50 Cent, Rihanna, and Lorde, it defined every year of the movie's events, as much as the evolving iPhones did. It acts as an accompaniment to their lives. After all, they're dancers. The music is only interrupted by the stark quietness of the interview scenes where we get to see Julia Stiles as the reporting journalist. Her character is our conscience as the story unfolds.
The film slows down as the third act begins and becomes a little long in the tooth. Is it the lack of scenarios or visits to the strip club? Either way, the funnies and the capers come to a halt and I found myself waiting for the movie to end as the subsequent scenes "milked the clock." I still walked out clapping my hands together though because it was a well written story, courtesy journalist Jessica Pressler and screenplay writer/director Lorene Scafaria.
Apart from their bosses, marks, and a significant other here or there, this is a mostly female-driven cast. Apart from a couple of producers (irony?), the principal crew are also women. And I'm here for it. The script is unapologetic for what the female characters do to make it or how they take advantage mostly of the men they encounter. And in the midst, it tells what it means to find a place of belonging … at least for a little while.