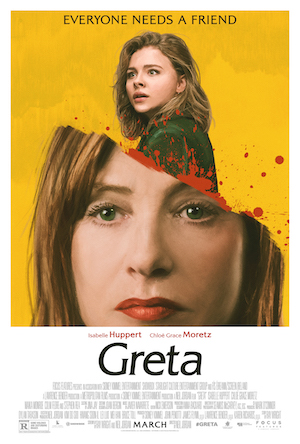 [Rating: Rock Fist Way Down]

The worst part of the Greta experience is the aftermath. The hours and days you'll spend trying to make sense of anything you've seen in this movie could be enough to make you insane if you're not strong enough to endure the ridiculously inept sequence of events that unfold once the lights dim.
Chloe Grace Moretz plays Frances, a naive kid from Boston, living it up in NYC with her bestie, Erica (Maika Monroe). When Frances finds a purse on a subway train, she naturally returns it to its owner, a lonely French piano teacher named Greta (Isabelle Huppert), it sets off a chain of events that prevents literally every character from doing what any normal and rational person should and would do.
But then again, if everyone wasn't doing something stupid, we wouldn't have a movie. So, of course Frances doesn't think its weird when Greta insists they go dog shopping together or when they start making dinner together by candlelight. Sure, Greta just wants a friend and Frances is dealing with the loss of her mother, but literally everyone sees how weird and creepy this situation is. And when Greta isn't who she says she is and actually — shocker — turns out to be a psychopath, this is when everyone else starts acting like an idiot.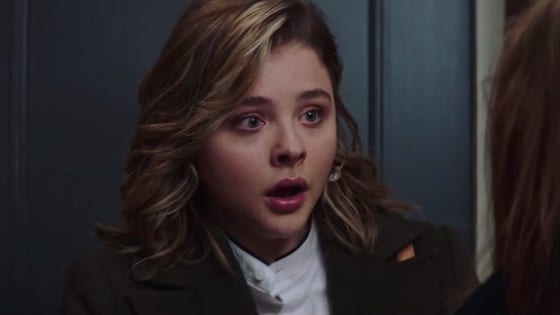 Granted, when watching movies, you should generally expect to suspend disbelief, but not when every character is acting ignorantly and irrationally for no other reason than to move the already thin plot forward enough to stage an equally stupid and elaborately dumb situation. When someone goes missing, don't call the police who already have her info, call a … private investigator? I mean, I guess. This is just one example of the stupidity plaguing this movie.
The acting is another problem. It's bad news all over the place in this flick, but it's hard to blame these ladies, the screenplay really gives them nothing interesting to work with. Moretz is stuck playing the wide-eyed victim, stammering most of her lines, falling into the prey to every cliched stereotypical trope director Neil Jordan (The Crying Game, Interview with the Vampire) can think to throw at her.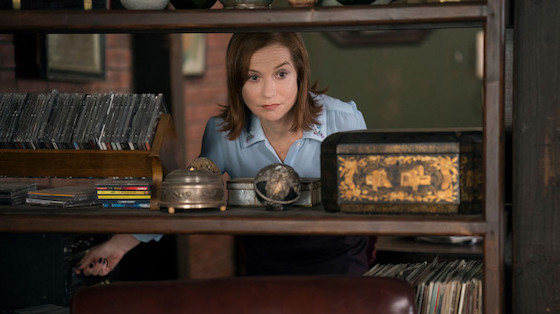 Huppert should be having more fun with her villainous role, but she looks completely lost and bored, just like the rest of us. But again, it goes back to that script, the essential building block of any solid flick. Credited to Ray Wright with an assist from Jordan, the movie avoids character development at every opportunity and contradicts its own plot points.
Greta is that rare perfect storm of pompous filmmaking stupidity that occurs when a script depends on an audience being dumber than its own characters in order to deliver contrived thrills. Don't take the bait.