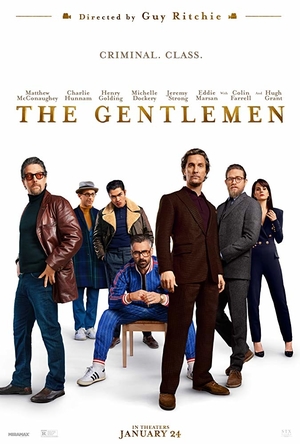 [Rating: Minor Rock Fist Down]
The pacing of a Guy Ritchie film is incredibly quick and the plot is so sporadic that you have to be hyper-focused while viewing to understand is happening. This has become so expected with Ritchie, it's like knowing you'll be subjected to some nasty close-up foot shots in a new Tarantino flick.
Guy Ritchie's newest feature The Gentlemen is no exception to his 100-mph style. While there are clever moments that warrant appreciation in the film, you're instead left befuddled trying to make sense of the random eccentric character that is now on the screen. You are then left wondering if you should even care about them, knowing that another plot twist is just going reset things in the next five minutes.

At its core, The Gentlemen is a British crime drama about a London marijuana empire run by the charming American Mickey played by Matthew McConaughey. The story is told through the point of view of private investigator Fletcher (Hugh Grant) who attempts to bribe Mickey's closest associate Ray (Charlie Hunnam) by revealing to him all that he knows about the crimes of their organization. To Ritchie's credit, this story-telling technique is entertaining and helps stabilize the madness of the film. The film's most enjoyable moments always come from Fletcher painting a big boisterous picture of the dramatic events in his story, while Ray swiftly combats it with what he claims to be the boring truth.

It's clear that Ritchie wanted to get back to his London gangster film roots after his string of big-budget blockbusters like Aladdin, King Arthur: the Legend of the Sword, and the rebooted Sherlock Holmes franchise. My theory is that it pained Ritchie so much that Disney wouldn't drop the F-bomb in Aladdin that he had to make sure his next film used it and the C-word over 100 times. In embracing the genre that brought Ritchie to fame, he seems off base with the current times with the film's humor and dialogue. The characters are crude and undeniably bad people no matter how charismatic they might be. However, that isn't an acceptable excuse for how flashy Ritchie is with some questionable racial and homophobic jokes. Ritchie seems far too comfortable with being in a grey area of off-putting dialogue and character actions. There are blatantly unfunny jokes consisting of racist name-calling that feels like they were designed to make an ignorant middle schooler laugh. The overall effect of this doesn't help immerse audiences into the seedy underbelly of the crime world, but instead gives the film the ambiance of a problematic early 2000s action movie.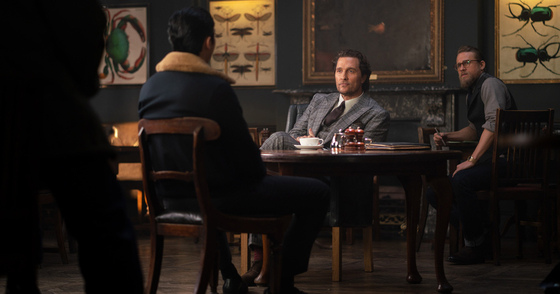 With all of its faults, The Gentlemen has a cast of characters supported by an amazing group of actors. Though there isn't time to give much depth to any character, the thin templates of who they are and what they want surprisingly works wonderfully. The film is wildly fast-paced and every actor is committed to making the most of their screen-time. It seems as if there is a playful competition between the actors of who will be the one to steal the show in the midst of all the convoluted chaos. I personally believe that it comes down to a close race between Hugh Grant and Henry Golding.

Hugh Grant is delightful playing despicable. Though not the key character, Grant carried the weight of the film on his back providing the sole bit of structure to the film's narrative. It is easy to be appalled by the character of Fletcher, but Grant's performance is so inviting that you can't help but be charmed by him at the same time. Multiple times in the film you want Fletcher to get done narrating the generic crime situations so it can go back to Grant busting out jokes in his small talk with Ray. 

The likeability of the character of Fletcher comes to a crashing halt in the second half of the film. Without giving away plot, Fletcher's unfounded aggression and advancements in later scenes of the film is unquestionably when Ritchie crosses a line that not even Grant's charm can recover from. There is important representation in Grant's role and even though he is clearly a smarmy character, a few of his actions uproot anything there is to enjoy about him or his inclusion in the film. After the events, the film brushes it off and Grant goes back to making the same old same old jokes. The damage is done however and it makes you uncomfortable to see him on screen as opposed to having the pleasure of laughing along with him.
Henry Golding plays the film's central antagonist Dry Eye. Like a Bond villain on crack, Golding's character was an ambitious crime lord whose ego constantly got in the way of all rationality. Golding has succeeded in building his young career as being the alluring dreamboat love interest in recent films like Crazy Rich Asians and Last Christmas. While it's hard to argue that he's fantastic being Mr. Perfect in those films, it's refreshing to see him get the opportunity to break his archetype for a more ludicrous role. The bombastic intensity Golding has in every scene, makes the disorder surrounding him far more tolerable. Golding is on the path of becoming one of Hollywood's biggest stars and I expect the most memorable aspect of The Gentlemen in the years to come is that is was a stepping stone for him.