Clint Eastwood's "Gran Torino" plays like some sort of R-rated Hallmark made-for-TV movie where the lead character, a horribly racist Korean War veteran named Walt Kowalski, finally learns firsthand that people are people everywhere, no matter what their background, and that racism is bad. For Walt to learn this valuable lesson, it takes his wife's death and his kids' subsequent disappointing behavior to make him look at his Hmong neighbors differently. Well, that and the fact that they shower him with gifts after he takes on some young gang members that are after their son.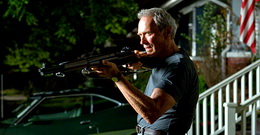 The movie plays racism for laughs, but the joke wears thin because it never lets up. It is a symptom of his character. Walt doesn't express his affection for Thao (Bee Vang) and his sister Sue (Ahney Her), but it's obvious after some awkward and completely unbelievable sequences that he cares about them. One major problem with "Gran Torino" is that the amateur actors look and feel just like that– amateur actors. Especially with Eastwood playing a growly caricature of the charatcers he's played in other films a million times before, it's almost as if the others are in a different movie.
Then there's the end. I can't talk about it without giving it away, but let's just say that the imagery is so obvious that it's laughable. I understand that Eastwood meant well, and it is interesting to fill up a tried-and-true movie formula with this much frank racism in order to make it different, but "Gran Torino" is just a well-intentioned mess.
Our friend Whitney Mathews had this to say in her capsule review at WhitneyMathews.com:
Hollywood legend Clint Eastwood's latest attempt at socially-relevant drama falls flat on its ass. Gran Torino is so bad, I found myself wondering "is this supposed to be a comedy? Cuz I'm LOLing at things that aren't supposed to be funny…" The whole first part of the movie is about Eastwood being an cranky, racist widower with a family that would love to dump him off in an assisted living facility.
Then he befriends a Hmong family that lives next door and things get really ridiculous. Or, as Pacman Jones would say, ridiculon. It's like Boyz N the Hood, but in Detroit with white and Asian people. The movie's attempts at touching, inspiring moments are ruined by bad acting.
For those of you who had to suffer through the 2001 production of Molly Whuppie at Shawnee Mission Northwest, I'd compare it to watching that musical four times in a row on a chair made of thorns. Don't bother with this one. I bet Bride Wars is more entertaining.
FYI, Gran Stupido literally translates to Great Stupid in Italian. I knew I'd use that degree someday!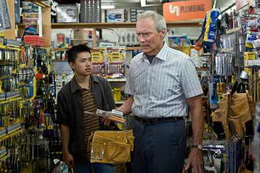 …and here's part of Alan Rapp's review at Transbuddha:
I could go into further detail about the other storylines involving a persistent priest (Christopher Carley) and Frank's sons and grandchildren with whom he has nothing in common, but each are so predictable simply vaguely mentioning them is all that's necessary. Truthfully, I've amazed I found the energy to even do that much.
Although it's immensely enjoyable watching Eastwood chew and spit out scenery in this one-note role the rest of the film is marred with many problems including a cast of actors not playing on the same level (many of the Homang are acting for the first time), pedestrian camera work (this is suppossed to be an Eastwood film after all), and disappointing final act complete with shameless symbolism and overt sentimentality.
At its best Gran Torino is politically incorrect fun with Eastwood grunting and showing his contempt for everyone around him. At its worst it's trite, heavy handed, and, most unforgivable of all, largely forgettable. I'd still give it a marginal recommendation for Eastwood's performance, but the movie itself is a bit of a disappointment.
What did you think?