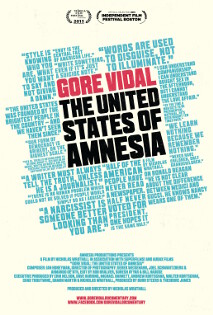 Gore Vidal was known for being opinionated and outspoken, which showed through in his writing and his own small political career. He was an advocate for democracy and often spoke out about how he didn't fully agree with the way America was being run. Vidal was born into a well off family allowing him to have a good upbringing, and was close to his grandfather, who was a Senator. Due to his grandfather being blind, Gore would read to him and guide him, which played a part in his own political philosophies.
Gore Vidal: The United States of Amnesia focuses on existing footage of Vidal, from his political commentary to his home life, giving viewers an idea of who he was. The film is interwoven with interviews with Vidal himself, as well as people he was close with and colleagues. Even into his old age, Gore Vidal has not lost his opinionated, outspoken, and witty nature which helps liven the documentary up, and dare I say, even make it fun. Viewers, either on the left or right side of politics, will definitely have lots to talk about once the film is over.
Gore Vidal: The United States of Amnesia plays at the Kansas City FilmFest on April 11 at 6:00 PM and April 12 at 5:45 PM. Click here for tickets and information.