First off, I want to get the pun out there that you'll probably go bananas for this documentary. There I said it.
It's interesting to think that for 60, yes, 60 years now, Jane Goodall has been the prime spokeswoman and researcher for all things chimpanzees. How in the world could a secretary from England lead research into better understanding the complexities of a species that was unknown up until that time?
In director Brett Morgen's new film simply titled Jane, Goodall narrates the story of her life in Africa through hours of archival footage from her early days getting to know her new subjects and their world. It opens today at the Tivoli Cinemas.
Having known about Goodall for many years, I never knew that she started out as a secretary who, because she had no prior knowledge of the chimps, was selected to go to Africa with her boss Richard Leakey to study them. Goodall's story is hopeful too as she reminisces on her early life that she wanted to do things only men would have been able to do considering the time period. Once she started examining the apes, and naming them based on their characteristics and personality traits, she created a special bond between her and nature.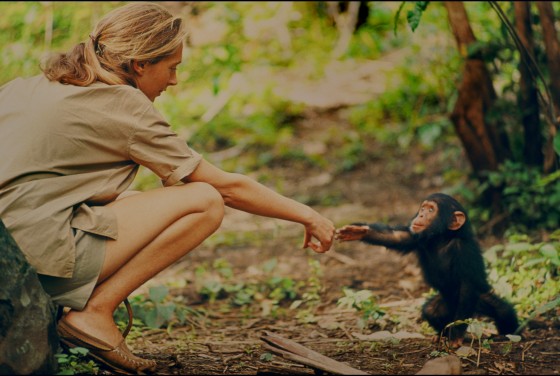 Goodall's life is not without its low points however. She reflects on her failed marriage and fear of her child growing up in the wild and having to send him back to England for schooling. Goodall knows she was and is not a perfect person and knows that the research she has done could potentially be dangerous with wild chimpanzees. The documentary never goes into the downside of her methods. I did have to research a bit into that after the film was over. Many in the science world consider what she does by naming the chimps is harmful to her own psyche because if anything happens to them, she takes it very personally.
Overall, Jane is a documentary that is skillfully executed and a great honor to Goodall. It is a step in the right direction to show how a woman can rise from secretary to the one of the world's most celebrated educators on animal life. Thankfully, in this documentary she is able to tell her own story through memory and diaries and reflect on the life she has led. Now at 83, she still champions the precious relationship of humans and nature.