After at least 20 years of a fanatical revivalist Jane Austen adoration, does the world really need another Austen adaptation or revisiting? Well maybe just one more, but it should be as charming, clever and openly self-referential as Austenland.
Co-written and directed by Jerusha Hess, half of the creative team that gave us Napolean Dynamite and Nacho Libre, Austenland follows Jane Hayes (Keri Russell), an obsessed fan of Jane Austen's work whose predilection goes far beyond the academic.
Though it will drain her savings, Jane decides to book a trip to Austenland, a manor house in the English countryside, which reenacts the days of the Regency Era and characters akin to those in Austen's novels. All guests dress in period garments and intermingle with the actors as if in the pages of Pride and Prejudice. The rules of decorum are strict and enforced by the owner, Mrs. Wattlesbrook (Jane Seymour).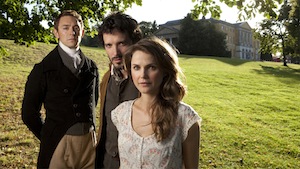 Fellow American Elizabeth Charming (Jennifer Coolidge) joins Jane at Austenland. Lizzie layers on American excess in a delightfully lavish way and makes it all but impossible to believe the façade that Wattlesbrook tries to create.
As is expected Jane falls for Martin (Bret McKenzie), a servant in the stables. Love cannot be that simple in Austen's stories, neither can it be in Austenland. The stiff and disagreeable Henry Nobley (JJ Feild), one of Wattlesbrook's actors, complicates matters when he finds himself falling for Jane.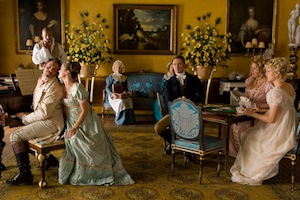 The interplay of what might be real with the created fiction is delightful. It works like a romantic mystery where each player is both acting a part and presenting themselves at that same time. This thoughtful approach effectively deflates the Austen fandom, while directly employing the things that make Austen's writing so wonderful.
This tact may alienate those who hold Austen too dear, but I found it enjoyable.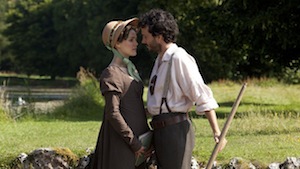 The only real critique I have of the film is that the first act drags, and Jane's character seems flat until she reaches the corseted gowns of Austenland. Jane does not truly become herself until she is playing the role of her assigned character Miss Erstwhile. Though I'm sure that this is an intentional choice on Hess' part, it still makes the first twenty minutes a bit slow.
Beyond this minor critique, Austenland is a charming film that is both funny and thoughtful, and would make for a lovely date night movie. It's not a masterpiece, but it never intends to be one.