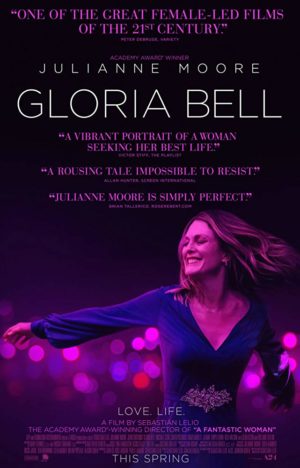 [Rating: Solid Rock Fist Up]

A surprisingly poignant and humble film, Gloria Bell is the movie for women in the prime of their lives, dedicated to the idea that no man is worth it if all they want to do is catfish you. It is what last year's film The Wife wanted to be, and yet couldn't achieve.
In this reimagining of director Sebastian Lelio's own 2013 Chilean film Gloria, we find the uber-talented Julianne Moore as title character Gloria Bell. In her search of love on the dance floor and despite her hesitations to break out of her shell, Gloria finds romance for the first time in a long time, despite further plot points that the romance isn't as cracked up as she hopes it to be. It's tender, heartbreaking, funny (one scene involving a paint-ball gun in particular) and gives us all a view at appreciating the simple joys of life and those around you who love you for just loving the world.

Gloria Bell is a single woman who spends her nights at disco bars hoping to meet a man who will sweep her off her feet. She loves to dance, bringing her aura of joy on the dance floor with it. One night, Arnold (John Turturro) catches her fancy and they spend a passionate night together and subsequent dates later. Her life now seems to go as happy as she could ever imagine. Her son Peter (Michael Cera) and his new baby are slowly letting her into their lives despite Peter's head being occupied elsewhere and her daughter Anne (Caren Pistorius) has found new romance herself with a man from Sweden.
Everything seems to go well in Gloria's life until she brings Arnold to a family birthday party also attended by her ex-husband Dustin (Brad Garrett) and his wife (Jeanne Tripplehorn). When old memories of a once-normal family make Arthur uncomfortable, he sneaks away leaving Gloria alone again. This leads to a series of Gloria having the worst days, until Arnold starts to lightly stalk her, begging for forgiveness because of his own personal problems with his own family. This leads to Gloria taking Arnold back. Unfortunately for her, Arnold repeats his actions and Gloria takes action into her own hands.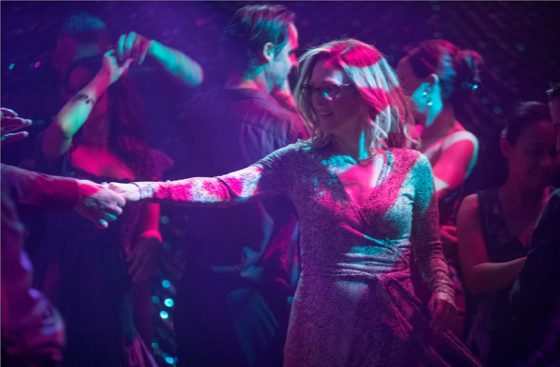 This was a terrific film, flat out. I have only seen one scene from Lelio's 2013 film in a class I took and I waited for that scene to be redone for this, and I was NOT disappointed. This film doesn't have a lot of unique or showy displays of virtuoso filmmaking, because a lot of it relies on the performances of the actors. However, one interesting aspect is the score, helping move both the story and Gloria's life along with interesting and perfectly timed music cues. The score has moments of terribly dramatic suspense to uses of the song "Gloria" that frames her life.
The script calls for a big ensemble and each person has their own moment to shine, even when the script makes them disappear for no apparent reason. Turturro is good as a skittish and sketchy Arnold, but it is of course Moore who steals the show. I would love her to go far this year with an Oscar nomination but it's too soon to talk about. Her version of Gloria is near sad because you can't help but feel sorry for her. Is she a loner for a reason? Is she a total introvert or is she always willing to open up to any man who notices her and her dance?

As previously stated, this is a film about a woman in the prime of her life. It's nice to see that as Gloria grows and understands herself, she dances to a new beat. She does things she would never think possible and continues to live her life at the disco clubs and enjoy her friends who love her. She no longer will be scorned by men, but instead she will break their hearts. This film is so uplifting in the long run, telling us no matter what age we are, to dance our own dance of life.