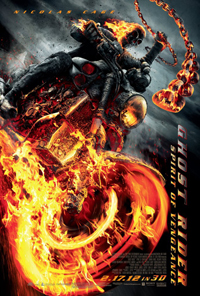 How did this happen?
Ghost Rider: Spirit of Vengeance, the newest movie from Nicolas Cage and the crazed directorial partnership that is Mark Neveldine/Brian Taylor is markedly bad, in the truest sense of the word.
It's a broken, convoluted mess that somehow manages to feel drawn out, despite a brisk runtime on paper. It features ham-fisted performances that are too intentional to be campy, but too unbelievable to be endearing. But its worst offense may be that it tamed two Hollywood outsiders, known for their kinetic style and utter disregard for convention.
Not pleased with Mark Steven Johnson's original, despite it making money, the brass at Sony Pictures decided to hand over the reigns of the Ghost Rider franchise to a new director and take the series in a darker, more horror-centric direction. After some searching, the Neveldine/Taylor directing duo behind the Crank series and Gamer.
Theoretically, this is a great idea. The duo are known for their fevered pacing, handheld and unconventional camera work, and a general infectious fun that is neither good nor clean — and all the better because of it. Add a lead actor that is as charismatic as he is scene-chewing and a loosely defined universe that gives plenty of leeway for the absurd, and you should have a cult winner on your hands. Or a least a train wreck of epic proportions.
In practice, this theory falls apart less than 20 minutes into the movie, when we're treated to our first scene with the Ghost Rider. It's clunky and awkward, but mostly it goes a long way in demonstrating how out of their element the directors are at times in Ghost Rider: Spirit of Vengeance. The action doesn't pop with the same immediacy or kinetic energy that fills their previously mentioned works and too much time is spent setting up a meandering, nonsensical plot.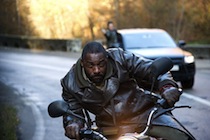 Cage is knowingly campy in this movie and as a result, his performance doesn't play as a memorably cheesy entry in his canon, but a winking attempt to capitalize on his notoriety. Somehow Neveldine/Taylor even managed to coax a poor performance out of the usually sturdy Idris Elba, which is also a shame. Beyond those two, we have Johnny Whitworth as a forgettable second-tier villain and Ciarán Hinds mugs his way through the movie as the equally boring Roarke.
There are moments that come close to the deranged fun the directors are capable of, but they are few. The best moment in Ghost Rider: Spirit of Vengeance comes during its final chase scene, which is exciting and involving, full of the kind of fun that the whole film should have been.
In fact, every thrilling scene and visually appealing set piece is spoiled in the trailer from August.
In the end, Ghost Rider: Spirit of Vengeance is just a bad, bad movie. An idiotic plot and campy performances can be forgiven if the action is tight and the sets are memorable. But the there's nothing noteworthy about Ghost Rider: Spirit of Vengeance, except for how completely it fails.