Back in 1994, director Kevin Smith's indie sensation "Clerks" was originally given an NC-17 rating despite the absence of any nudity or violence. The adults-only rating—which translates to box office poison—was singularly due to the film's excessive profanity. With the help of Miramax lawyers, Smith appealed the decision and was eventually handed an R-rating, but not without a lot of hullabaloo in the press.
It is a sign of our changing culture that the super-foul-mouthed new comedy "Superbad" is not only coming out with an R-rating right away, but that it is being touted as a sure-fire smash, with major studio Columbia Pictures launching an insanely huge media campaign. They are so confident in the movie that they have been screening it for critics months in advance. I am also delighted to tell you that it is actually worth the hype.
Seth Rogen, whose breakout performance in "Knocked Up" helped make it the funniest movie of the year so far, co-wrote and co-stars in "Superbad," a movie he started writing with his buddy Evan Goldberg when they were 13. Rogen is too old now to play the part of high-strung high school geek Seth, so that part falls to Jonah Hill (who was also in "Knocked Up"), while his low-key hetero life-mate Evan is played by "Arrested Development's" Michael Cera.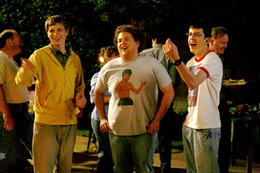 If only every comedy that comes out these days could be tinkered with for 12 years before it's released into theaters.
The plot is simple: Nerds Seth and Evan are looking to lose their virginity on the last party night of their high school careers before they go off to different colleges. When their even geekier pal Fogell (funny newcomer Christopher Mintz-Plasse) gets a fake I.D., they are all charged by super hottie Jules (Emma Stone) with getting the alcohol for the biggest party of the night. Along the way, they are sidetracked by various bizarre people, including two cops (Rogen and Bill Hader) who do not act any older than the high school kids.
Seth is overweight and obnoxious. He's also a creatively potty-mouthed walking hormone. Evan plays along with his best friend, but is all stutters and nervousness around other people. Together in private they are a laugh riot, but at school, they get pushed around and spit on. The sex talk between the two is as frank and disgusting as you'll likely hear, but the reason the humor works is because for all Seth's blustery playa-talk, he's as scared as a child. Evan has more confidence, but is so introverted, nobody might ever notice. In each other's company, they are "Superbad."
Cera and Hill give effortlessly hilarious performances, guided by the sure hand of director Greg Mottola ("The Daytrippers") and producer Judd Apatow ("The 40 Year-Old Virgin"). The movie was shot and digital video, so there is a grainy texture to much of it and the colors are quite dull. It works as a stylistic choice—these are not the slickest-dressed guys in the world—and also means the actors can burn limitless amounts of tape during long improvisational takes.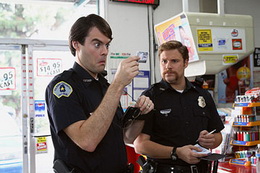 The press that's been coming out so far keeps comparing "Superbad" to the 1982 teen classic "Fast Times at Ridgemont High." It is high praise indeed, but it is not quite deserved. "Superbad" is certainly funnier, but it doesn't ring true like the multi-layered "Fast Times." Seth and Evan are well-drawn characters, but everybody else is more than just a little off-kilter, too weird to be stereotypes and too outrageous to be real people. Like "Knocked Up," there's a lot of nerd wish fulfillment here as well—no girl as gorgeous as Jules would be caught dead with someone like Seth. Remember, these guys were 13 when they started writing this.
On the other hand, Rogen and Goldberg's screenplay makes the most of every ridiculous situation, leaving no gross-out stone unturned and no surprising plot twist unexplored. There are not a lot of comedies these days that can be considered unpredictable (see last week's "Rush Hour 3"), but "Superbad" is one of them. It consistently thwarts expectations, as one night becomes not only the turning point in the friends' relationship, but also the culmination of years of pent-up frustration. In addition, a parallel between the cops and the high schoolers suggests that some insecurities are more than just growing pains and leave lasting scars.
If you can sneak a nice little bit of emotional development in a hilariously bawdy comedy without adhering to every standard feel-good formula, then that's a minor miracle, and "Superbad" is definitely that.