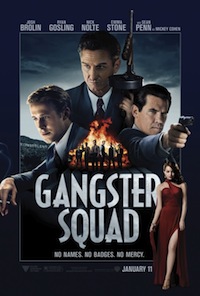 With a cast that is solid with stars and character actors, a script that is inoffensively simple, and production design that glows with neon saturated colors, there is no reason that Gangster Squad should be this bad. Yet even with everything it had going for it, director Ruben Fleischer was still able to botch his latest film.
Perhaps Zombieland, Fleischer's first feature, was just a fluke. His 2011 follow up was the occasionally funny, mostly boring 30 Minutes or Less, and now Gangster Squad, his foray into grittier, more stylized fare, falls flat.
The story is a compressed version of the Los Angeles Police Department's battle with Mickey Cohen (Sean Penn), including the off the books Gangster Squad. There is nothing to solve, just a mission to see through. This small band of men must push this gangster out of town before he controls everything.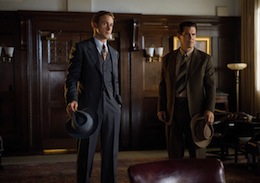 Fleischer employs a lot of quirky transitions and digital gore. These are right at home in a horror or comedy, but feel out of place in a gangster film. There is a digital helicopter shot that is not only unnecessary, but it looks bizarre and gives Gangster Squad the weird tonal feel of Dick Tracy, another film that couldn't decide whether it was silly or serious.
With a story as well known as Mickey Cohen's, which has been chronicled in the much better film, L.A. Confidential, and with crime fiction in general, one must at least acknowledge the tenets of the genre. If the script is slow and lacks mystery, then it should focus on character. The Untouchables isn't about solving a crime, but chasing the crook. Therefore the focus is squarely on the struggles and mindset of a couple of characters.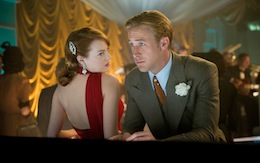 Though Fleischer had capable actors at his command, including Josh Brolin as Sgt. John O'Mara, Sean Penn as a cartoonish Mickey Cohen, Ryan Gosling, Giovanni Ribisi, Emma Stone, and the chiseled character actor Robert Patrick for a little salt, he could not make the most of their talents.
It seems that Fleischer knew the type of film that he wanted to make. It is clear that he told all of his collaborators, and that they were able to provide everything from sets to costumes, grins to grimaces to help make a quirky crime drama happen. Unfortunately it was Fleischer himself that was sorely unequipped to handle the material.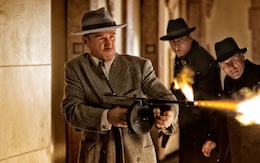 Gangster Squad ends up as neither an interesting mystery nor edgy character drama. The simple story remains too simple in Fleischer's hands, and fails to build intrigue anywhere in its two hour run time. You might be able to enjoy the cars or costumes, or maybe you'll have fun seeing familiar faces from better films, but for me Gangster Squad was a disappointment that could have been great with someone else at the helm.