Warren Cantrell is at the 2012 Seattle International Film Festival seeing as many movies as he can and filing reviews and reports as he goes.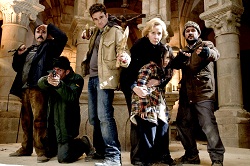 Game of Werewolves (Lobos de Arga) ain't your grand-pappy's monster movie, though the old man would have almost certainly recognized, if not enjoyed it.  The latter statement would hold especially true if your grandfather was a truly magnificent and gore-loving son of a bitch, one with a predilection for thrash metal, crocodile meat, and the work of men like Sam Peckinpah and Sam Raimi.
Indeed, while the earliest reviews of Spanish director Juan Martinez Moreno's Game of Werewolves have inevitably thrown around Shaun of the Dead comparisons, connections to the aforementioned Sams, and classics like The Wolf Man and The Howling are more apt.  A horror-comedy to be sure, Game of Werewolves isn't nearly as smart, or as reflexively self-conscious as Edgar Wright's zombie masterpiece, yet succeeds nonetheless because it never tries to be.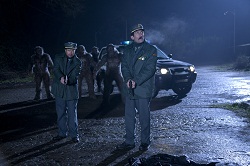 The film opens with an animated vignette outlining the essential elements of the plot's back story.  A thousand years ago, some rich Spanish Countess (or some damn thing) got into a tizzy because she couldn't conceive a son.  When a gypsy caravan came through town, the Countess seduced one of the men, got knocked up, and then liquidated the entire gypsy commune to cover her tracks.  Right before the last blow landed, the gypsies put a curse on the Countess, her family, and the town, initiating the werewolf curse that eventually turned this movie into a blood-and-guts buffet.
Before getting to the carnage, the film spent a decent amount of time setting up its main characters, the primaries being Tomás (Gorka Otxoa), a small-time 21st century novelist returning to his childhood village (the cursed 'Arga') to receive an award.  There, Tomás runs into his boyhood friend, Calisto (Carlos Areces), and a crazy-as-rat-shit uncle, Evaristo (Manuel Manquiña), both of whom seem to know surprisingly little about Tomás' literary achievements despite the fact that the writer is the guest of honor in an upcoming town ceremony of some sort.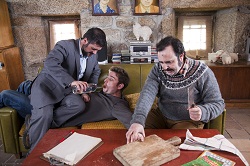 The other shoe finally drops when Tomás discovers that he's been lured back to Arga solely for the purpose of ending the millennium-old werewolf curse, a fantastic and unbelievable notion that becomes all the more real when six foot tall, razor-fanged, red-eyed beasts of the night start appearing before his eyes.  A low budget production bound together by meticulous set design, superb acting, and non-CGI practical effects reminiscent of the genre's glory days, Game of Werewolves is at its best when the action is going full tilt.  Admittedly, this does take a bit of time, what with the requisite exposition surrounding Tomás' best friend, his agent, loyal dog, and tough-as-shit grandmother, yet the payoff more than makes up for the wait.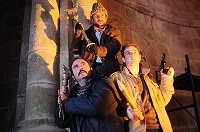 Game of Werewolves is showing at this year's Seattle International Film Festival, and thank Christ for that, as the festival circuit is the best environment for the development of a picture like this one.  Dorks that take time off work to go and see the newest Spanish horror-comedy are the kind of love-starved gore-junkies that eat this shit up.  They're the ones that can recognize the subtle but important choices the filmmakers made to connect the visual aesthetic of Game of Werewolves to Hollywood's Golden Age of monster cinema.  They'd tell you that the stockier, more flat-faced werewolves in Game of Werewolves are a throwback to the wolf-men of the 1940's and 50's; they'd talk about how comparisons will inevitably be drawn between this picture and An American Werewolf In London, and more recent offerings like Dog Soldiers, all while arguing about how director Juan Martinez Moreno has undoubtedly returned to the genre's roots whilst still making a picture all his own.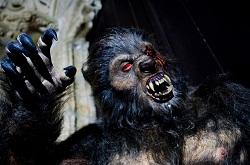 Indeed, though the werewolves in this movie look familiar to a classically trained eye, they are the leapiest goddamned werewolves this author has ever seen.  Seriously, in the film, they jump like grasshoppers and attack with the force of a fucking Mac truck, pulling off arms and heads with the same level of exertion as a healthy man picking at his ass.  The action is steady, bloody, and humorously random: some of the pieces coming so fast and hard that the audience is often left wanting for air when one hilarious gore-gag falls seamlessly atop another.
Some of the best moments come well into the film, when a local cop (Luis Zahera) gets involved and transforms into what may be cinema's most accomplished werewolf slayer.  The rest needs to be seen so as to truly believe, for once Game of Werewolves gets going, it's like riding on the back of a wild grizzly bear running on top of a flaming zeppelin about to crash into an erupting volcano.  Again, though not quite as clever as some other recent horr-com's, it's just as fun, and a delight for all of you closet werewolf fiends out there waiting for your sub-genre's moment in the sun.  Wait no longer.