At first glance, you might assume Game Night is your typical Jason Bateman flick, filled with dry humor, some good gags, but ultimately predictable. Not so fast, kiddo. In fact, the comedy directed by John Francis Daley and Jonathan Goldstein is surprisingly clever, full of high-energy, and one of the funniest movies I've seen in a while.
Bateman of course, plays Jason Bateman, aka Max. He's your typical dude with a wife that seems way too hot for him, Annie (the adorable Rachel McAdams), and a brother, Brooks (Kyle Chandler) who everyone knows is cooler, better looking, and more successful than Max. During one of the couple's famous "game nights," Brooks rolls in, makes a scene and does what he does best: make Max look like a punk.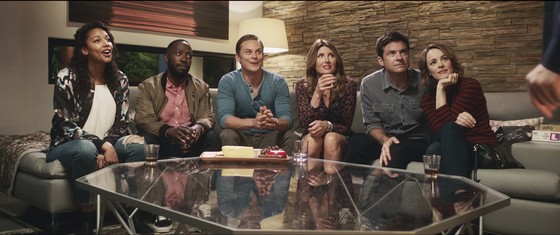 Sick of seeing her husband played like a chump, Annie decides to help her husband finally take down his brother when Brooks offers to host a far more extreme and better game night at his place. When Brooks' misguided kidnapping scheme goes horribly wrong, Max, Annie and their friends have to put the clues together to save one of their own before the night takes a fatal turn for the worse.
It seems complicated early on. At times it feels like there is too much going on and a lot of moving pieces. But thanks to a clever script from Mark Perez, the film manages to make sense of it all. The jokes come fast and furious and most of them work. And guess what? This movie is really funny without resorting to ridiculous vulgar gags. But what is does best is a little more subtle. There are a lot of references to party games woven into the witty screenplay. Everything these couples do in order to solve their mystery is steeped in board game lore even if they don't realize it. Heck, whenever there is an aerial shot, it looks like a game board.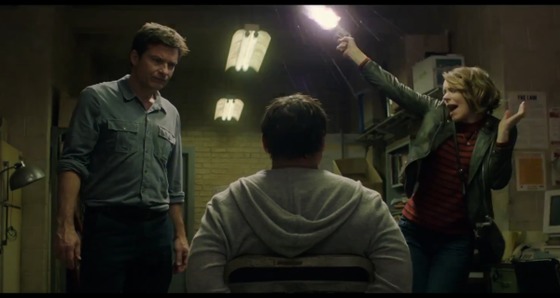 The cast is solid. Each of the characters has something to do and everyone is given a few solid comic moments without anything feeling over done. As I said, Bateman seems to be playing a version of just about every character he's ever played but it works. He has good chemistry with McAdams and it carries the film, giving us a couple to root for without a lot of excess baggage back story B.S.
Let's talk about Jesse Plemons for a moment, though. This dude steals nearly every scene he is in as the weirdo cop neighbor who used to be a part of game night but has kinda been ostracized from the group since his wife left him and everyone generally thinks the dude is weird as hell. Plemons does more in his glazed-eyed blank stares at time than anyone else does with dialogue.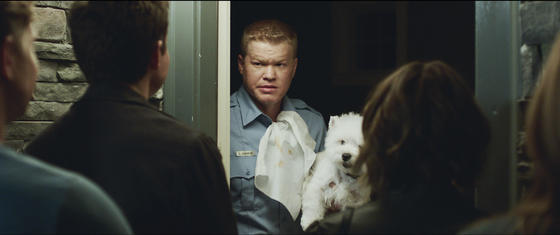 Is it perfect? No. It's a bit too silly at times and defies logic at most others. There are a lot of plot twists, maybe one too many. But for the most part they all work. It riffs a bit from David Fincher's The Game, with the comic tone of Horrible Bosses. But it's a really honest and funny movie. It does more with simple jokes than most films wish they could do.
Game Night is the first surprise comedy of the year. This is based solely on the fact that it's stuck with a crappy February release date. But it's a fun, energetic and relentless comedy that defies all of its own cliches.