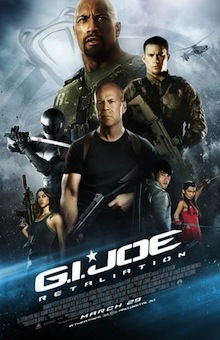 G.I. Joe: Retaliation is not high art. It is a sequel to a movie that is based on a 1980s bit of brand fusion that combined a toy line with a cartoon and comic books. It's an obvious piece of nostalgia farming for a series that was honestly never that great, it is just remembered as being great because everything's cool when you're young and c'mon … Snake Eyes.
But even with all of those caveats, G.I. Joe: Retaliation is still horrible. There aren't enough qualifiers in the world to make this movie more than what it is, which is an absurd, laughable stupid action movie, which takes itself remarkably serious despite the inherent silliness of a special forces team that contains a mute ninja, a free runner, two meatheads whose only defining character traits are the way in which they shoot people, and a lady.
Director Jon M. Chu makes it abundantly clear that he's a director of sequences and not people, as every attempt to create even broad character sketches are wooden and not at all how humans interact with each other. The film was originally planned for a summer 2012 release, but got shelved until now for a series of reshoots and a 3D conversion. At the time it was shot, the series was going to take a different direction, scrapping the characters from the first film and taking a more serious, Dwayne Johnson-centric approach.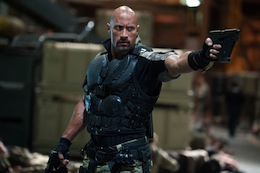 The problem, or rather one of the many problems, was that between when the film was shot and when it was released Channing Tatum became a full-blown star thanks to turns in Magic Mike, 21 Jump Street, Haywire and even Side Effects. While it's next-to-impossible to reinsert Tatum into the entire movie, what we are left with in the reshoots are a few lingering scenes where his character Duke and Johnson's Roadblock hang out and play video games – important stuff.
"So we don't get any character development, so what? It's G.I. Joe," you may be thinking. True, hypothetical person, but even without the pesky characterization found in many motion picture films, the set pieces, plotting and action are poorly drawn as well.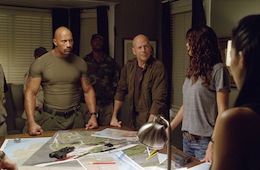 A plot for world domination that would make Dr. Evil say, "Really?" doesn't do anything to raise the stakes because there aren't any. The giant, final battle sequence forgets entire characters. There's a character reveal that doesn't pay off. Chu even manages to waste a cameo from Bruce Willis and another from Rza. The only attempt to treat Adrianne Palicki as anything other than eye candy is a hilarious scene where she delivers a long monologue about her father – while stripping out of a cocktail dress, while another character ogles her in a reflection.
There are two things that keep this movie from being worse than Gangster Squad, which is still the front-runner for worst movie of the year. One, there is a pretty harrowing action scene in the mountains which is essentially a giant chase sequence, except with ziplines and ninjas, which always make things better. And two, a pretty funny/disarmingly charming performance from Walton Goggins who shows up long enough to out act everyone and then go away.
Much like Transformers: Dark Of The Moon, all of the toyetic, '80s nostalgia in the world cannot save G.I. Joe: Retaliation. It is an insultingly stupid, nonsensical movie that manages to do a disservice to actors and even the plastic figurines they're based on.