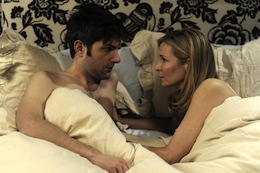 Everything about Friends With Kids the directorial debut from Jennifer Westfeldt feels like a labor of love. Westfeldt, who also wrote and produced the film alongside Mike Nichols and real-life boyfriend and co-star Jon Hamm manages a cast that has proven their comedic chops on Parks And Recreation, Saturday Night Live and Bridesmaids, among other places. In addition to Hamm, the film stars Kristin Wiig, Adam Scott, Maya Rudolph and Chris O'Dowd. The problem is that the film never aspires to the same level of talent contained within the cast.
The plot focuses on Scott and Westfeldt's characters, Jason and Julie the last of their group of friends who haven't settled down. Jason is a commitmentphobe who only likes girls with big boobs — seriously — and Julie is just too dang busy to find herself a man. After an annual visit to their friends with kids (Hey, that's the name of the show!), they decide maybe they should have a child together, platonically, mind you, and then once said child is born, focus on finding their true love. If you need a road map to figure out where this movie is going, then perhaps you should try watching a romantic comedy sometime. Literally any one will do.
But that's fine. The genre is relatively restrictive and at this point in cinematic history almost everything has been done at least once, so being predictable is a caveat that almost has to be allowed. As long as the film is entertaining, the performances are memorable or there's at least some element that helps the film standout from the crowd, having a boilerplate narrative is acceptable. If anything, it gives a movie a solid foundation for talented actors to improvise on top of or build likable relationships around.
And while that happens to a small extent, it's limited to only the relationship between Scott and Westfeldt's characters, an important relationship to like, but their chemistry isn't enough to salvage the entire film. Aside from them, there's not a lot of casual, tangible friendship or chemistry between anyone else in the film and adding Ed Burns and Megan Fox in the second half doesn't improve things.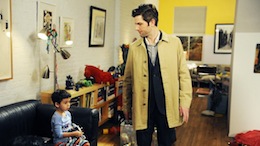 But there are a pair of memorable moments in Friends With Kids, but not necessarily for the right reasons. The first comes during an awkward dinner party that sees Wiig and Hamm's married couple devolve into a drunken spectacle. The scene doesn't work as a believable exchange, but it does contain a ton of declarative lines that manage to push the anemic story forward.
The second scene that almost justifies the entire film just for its sheer ridiculousness is the conclusion. While it wouldn't be fair to spoil it, let's just say it isn't Shakespeare and that for a film that has tried to stay restrained for most of its runtime, the go-for-broke, misguided emotional climax is desperate and an afterthought to a story that ended 15 minutes earlier and was extended for no real reason.