Free Solo might be one of the scariest movies I've seen in years.
The funny part is, this isn't a horror movie. Free Solo is a documentary about Alex Honnold, a free soloist mountain climber – someone who climbs mountains without any ropes. This might not sound scary to you, but I'm afraid of heights. So, watching Honnold free climb unthinkable heights, well, I found myself watching certain moments between my fingers as my hand covered my face.
Directors E. Chai Vasarhelyi and Jimmy Chin intimately follow Honnold as he prepares to conquer one of his biggest dreams; climbing the 3,200-foot El Capitan in Yosemite National Park…without a rope. Twice before his first attempt, he injures himself. Then on the first attempt, Honnold stopped himself because something didn't feel right. A decision Chin acknowledges as weird.
If none of this was done on purpose, and I have no reason to believe it was, then the filmmakers couldn't have scripted better drama. One of his injuries is to his back and the other is a sprained ankle. Both very crucial body parts when climbing a mountain, especially an ankle. Honnold talks about the importance of feet strength numerous times. It might look like all upper body strength, but it isn't.
Then, he does it. In June 2017, Honnold becomes the only person to ever climb El Capitan without ropes or safety gear, scaling the mountain just under four hours. The film follows a year of training, with Honnold successfully completing the climb on only his second attempt.
I still can't wrap my head around climbing without a rope. And I'm not the only one, either. Free Solo shows how Honnold's girlfriend, Sanni McCandless, both supports and questions his decision to climb. Not only are the climbs suspenseful, but conversation about life and love between Honnold and McCandless are sometimes just as tense.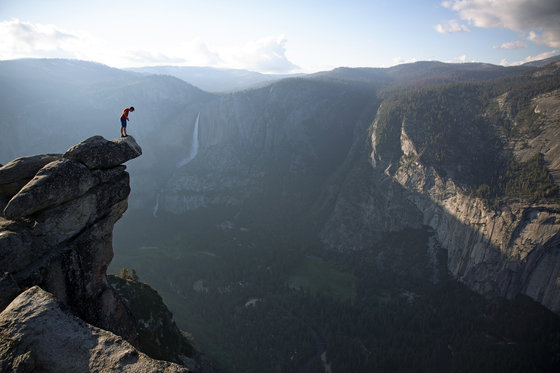 "Would putting me into the equation ever actually change anything," McCandless asks. "Would you actually make decisions differently?"
"If I had some kind of obligation to maximize my lifespan, then yeah, obviously I'd have to give up soloing," Honnold responds.
"Is me asking you — do you see that as an obligation," McCandless replies.
"No, no. I appreciate your concerns," Honnold responds. "I respect that, but I in no way feel obligated, no."
"To maximize lifetime," McCandless asks again.
"No, no. But you saying, 'Be safer.' I'm kind of like, 'Well, I'm already doing my best,'" Honnold says. "So I could just not do certain things, but then you have weird, simmering resentment because the things you love most in life have now been squashed. Do you know what I mean?"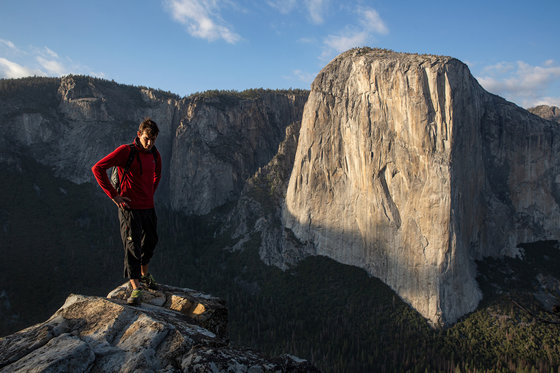 Honnold, in that discussion, is not being selfish. He's being honest. At that point, climbing had been in his life longer than Sanni, or any other girlfriend, for that matter. He doesn't exactly call himself a recluse, but he free solo climbs for a reason. His father died when he was 19 and his mother always pushed perfection on him. He says at one point in the film that completing a free solo climb is the closest thing to being perfect. And you can't be perfect if other people are tying you down.
Putting aside my fear of heights, this is a beautifully shot documentary produced by National Geographic. If you can, see this in a theater. I might torture myself and see this again just to see it on a giant theater screen, like it should be seen.