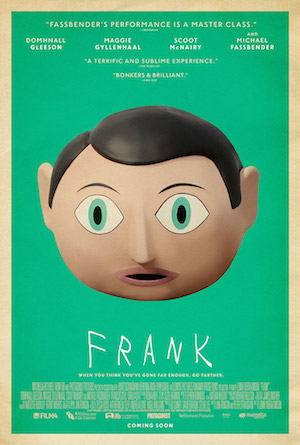 [Minor Rock Fist Up]
Michael Fassbender plays the titular misfit in Frank, the debut from director Lenny Abrahamson and writers Jon Ronson and Peter Straughan. Frank follows a young wannabe musician named Jon (played by Domhnall Gleeson) who desperately wants to escape his sleepy life for stardom and adoration. As luck would have it, he stumbles upon a band who has just lost their keyboard player and he volunteers to fill in.
What follows is a journeyman story where young Jon learns that getting what you wish for ends up not being all it's cracked up to be. The promotional engine behind Frank is focused on Fassbender's character, the bizarre lead singer of the film's band who, beyond being the band's creative dynamo, also happens to wear a giant, paper mache head over his own. It's easy to see why. It's visually jarring, instantly funny and does a great job of distilling the movie's premise – "That's the head movie, right?".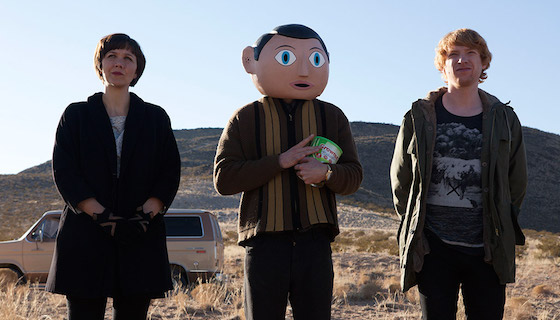 The problem is that past that initial premise, the rest of the movie gets muddled. Sometimes Frank is about the misfit family you choose, not the one you're born into. Sometimes it's about the dangers of naked ambition. Sometimes it's about creativity and making your own art with reckless abandon. A lot of times it's not about anything in particular. But Frank is never better than when it revels in its own weirdness, which is both it's greatest strength and it's biggest shortcoming.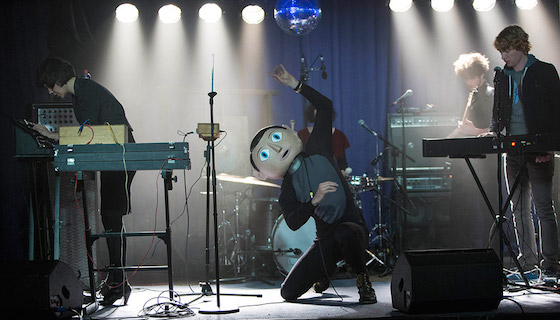 The chemistry between Maggie Gyllenhaal, Fassbender and Gleeson is present and varied in nature, depending on which two are playing off each other. Gyllenhaal is Sahara-dry as the band's backing vocalist and synth player. When paired with Fassbender, she is protective, fierce and funny. With Gleeson, she's contempt incarnate. Fassbender, even through the giant head, is childlike and lovable. Gleeson is serves as the audience at times, as he's shocked and weirded out by the band, while wanting to be part of it at the same time.
After the initial humor and premise fade, Frank doesn't manage to congeal. It's plot is a mish-mash off familiar parables with sudden detours into weirdness. The climax of the movie isn't consistent with the actions of the characters and the conclusion is drawn out, though satisfying. For a first attempt from Abrahamson, it's an admirable one, but had it either adhered to its story or fully embraced the inherent weirdness of it all, it likely would have been a strong film. As it stands, Frank is a fun, fascinating and flawed first effort.