This guest review comes from longtime Scene-Stealers sitegoer Ryan Davis, who just started his own review blog over at LostInReviews.com. Since the upcoming Scene-Stealers redesign will allow you to post your own reviews on current movies, we thought we'd give early adopters a chance to do that right here. Everything that follows is Ryan's review of "The Soloist," not Eric's (even though it has his name next to the rockfist graphic):
"The Soloist" is the story of Steve Lopez (Robert Downey Jr.) and Nathaniel Ayers (Jamie Foxx), two men that meet by fate and end up needing each other in different ways. For Steve in the beginning it seems he just needs Nathaniel for a story. This need for a story is driven by a rash of staff writer firings at the Los Angeles Times. It just so happens that he finds this story in Nathaniel, a homeless musician with mental problems. For Nathaniel, the need is different: He just needs a friend, plain and simple.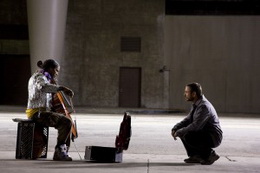 As Steve writes about his new-found homeless friend, he begins to struggle with the right and wrong of it all and thinks he needs to find a way to help this former Julliard student get back to some kind of normalcy. This is where the film excels in the focus of helping. We see deeper into Nathaniel's issues with mental health and his day-to-day lifestyle of being homeless.
Director Joe Wright ("Pride & Prejudice," "Atonement") shows us this in a variety of different ways from visualization to the sound of a million tiny voices in Nathaniel's head. We get to really see what the characters are thinking and feeling. For example, in a scene where both of our troubled characters are sitting watching an orchestra play a piece of music, we are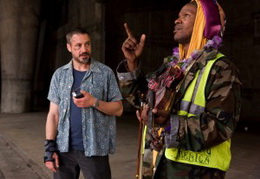 bombarded with a stream of colors and see see how Nathaniel visualizes the music. We also hear this in parts of the film as a flurry of voices This is when the audience gets transferred into the head of Nathaniel.
Jamie Foxx portrays this so well. As we hear the voices, his facial expression changes with every whisper. You can tell that Foxx really let go and dug deep into his character. His performance was outstanding in this film. It's too bad that this was released so early in the year, as I'm sure it will be forgotten come Oscar time.
As for Robert Downey Jr., it seemed to me that he was outshined by Foxx's magnetism and just played himself in a way. That's not to say that he was not good in this role, he was just not a memorable as Foxx was. Don't get me wrong–his character had a lot of demons to battle as well, such as having to deal with wanting to help–but not wanting to take full responsibility–for the life of a homeless man. It seems he has a problem with intimacy. We see this in many ways in the film, but mostly with his relationship with his wife/editor, played by Catherine Keener. It seems he just cant decide if he wants to be in a relationship with her.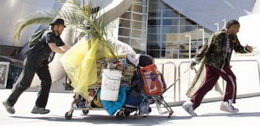 One standout role is that of David, a counselor at a homeless shelter where Nathaniel stays. David is played by Nelsan Ellis. Many of you might know him from the TV show "True Blood," where he played the character Lafayette. In "The Soloist," he plays a hard-nosed counselor that has been around the block and give Downey Jr.'s character advice that he usually doesn't follow.
Overall, this movie surprised me though it does seem to run on in parts and the flashbacks to Nathaniel's past seem sparse. It makes up for all that with how it portrays his disease through non-traditional methods. The visualization of flying over L.A. and the unique sound design are two areas where  the movie really shines, along with Foxx's acting. I can strongly say I liked this movie. I must warn you though, if you are looking for a short heartfelt romp this weekend, this movie is not for you. But if you have the patience to sit through a longer movie that dives into some taboo subjects, then go see "The Soloist."