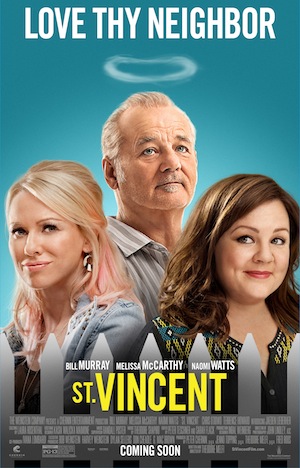 [Minor Rock Fist Up]
This review appears at Lawrence.com.
If there were a grumpy old man who lived next door to every latch-key kid in America, we'd have a lot more well-adjusted children in the world.
At least that's what Hollywood would have you believe.
St. Vincent stars Bill Murray as a mean-spirited drunk who takes 12-year-old Oliver (Jaeden Lieberher) under his wing for baby-sitter wages when his mother (Melissa McCarthy) is forced to work late-night hours at her new job. Vincent takes the boy to all kinds of unsavory places — the racetrack, the bar — and introduces him to a pregnant Russian stripper (Naomi Watts) with a heart of gold.
Vincent's not a total bastard, you see — he's just rough around the edges. After all, he's played by Murray, so even at his most cantankerous, he's still charming. The effortless chemistry of Murray and Lieberher are the main reason that, even at its most clichéd, St. Vincent mostly works.
In fitting with the generous spirit of the film, the barflies and various unsavory characters Oliver meets through Vincent are all pretty sympathetic as well, but writer/director Theodore Melfi should be given credit for at least taking a couple of detours through some dark places before settling on the inevitable heartwarming moments that the story requires. These scenes fill in the blanks of Vincent's character. Getting to know your local senior citizen better ends up being the point of the entire film, I suppose.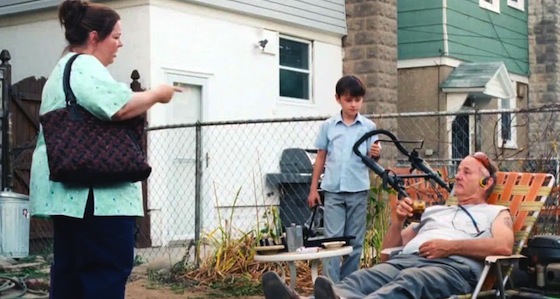 From the moment that Brother Geraghty (Chris O'Dowd) starts teaching the kids at Oliver's new Catholic school about historical and modern-day saints, it's pretty obvious where St. Vincent is headed. Melfi struggles to wrap everything up and hits some false notes leading up to his title character's crowning, but this formula is still hard to resist completely.
Even though the movie's ending is about as pat as these kind of coming-of-age movies get, you'd have to be a bigger bastard than Vincent not to feel, well … something.