Footloose dances into theaters today and if you loved the first movie, the new Footloose is a must see. The remake of the 1984 movie keeps the fun vibe of the original for a new generation of fans.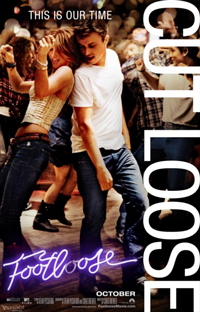 The latest flick, like the 80s version, is not going to be an Oscar winner. But Footloose is a fun, entertaining ride–a great popcorn film that will have you tapping your toes as you watch. The movie is filled with cheesy moments, just like the original film, but if you are looking for fun entertainment this is it! It goes without saying that kids, especially tween and teen girls, will love Footloose.
In case you didn't see the 1984 version starring Kevin Bacon, the movie is the story of an outsider who comes to a small town and turns it upside down. Ren (Kenny Wormald) is a teen from Boston who comes to the small town of Bomont to live with his uncle and family after the death of his mother.
The rebellious teen arrives in Bomont three years after a tragedy that changed the town after group of teens were killed a car accident. After the tragedy, the town puts the hammer down on the kids in the town and bans all public dancing and loud music. The 'don't dance don't tell' rules were pushed into law by the father of one of the deceased teens, who is also the town preacher.
The good reverend is played by Dennis Quaid in the new Footloose (an upgrade from original version played by John Lithgow). The reverend's daughter Ariel (Julianne Hough), is the wild woman of Bomont who rebels against daddy and the town in short shorts and cowboy boots. Attendance would double in most churches if the sermons were delivered by Dennis Quaid. You know I'm right.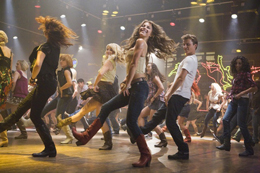 The film's energy levels is sky high, the script is corny but there's some believability. Leave reality at the door and enter this movie to have a good time.
I came of age in the 1980s so I loved the original Footloose but I think the 2011 film gets a huge upgrade in terms of dance moves! Kenny Wormald and Julianne Hough rock the dance floor, as does the supporting cast in a way that is much better than Kevin Bacon. Sorry Kev, but it's the truth.
Footloose was directed by Craig Brewer (Hustle and Flow, Black Snake Moan) and also stars Miles Teller as the goofy sidekick. The new flick is all about teen revelation and tradition vs progress — not exactly groundbreaking cinema. But if you want a toe-tapping, boot-scooting Saturday night or Sunday afternoon fun—Footloose is your movie.
Forget real life and have some fun this weekend!
Just to show you I have no hard feelings toward Kevin Bacon, here's a clip of the original Footloose! Enjoy.