Certain moments are foundational to our national identity.
One is July 20, 1969, when the entire nation seemed glued to television sets and radios, witnessing Neil Armstrong set foot on the moon. Hollywood movies such as The Right Stuff, Apollo 13, and Hidden Figures have retold these pivotal space-themed moments with an equal mix of reverence and classic underdog storytelling to reinforce the bravery and heroism of the men and women of NASA.
But First Man, written by Josh Singer (The Post and Spotlight), directed by Damien Chazelle (La La Land and Whiplash) and starring Ryan Gosling as Armstrong, ejects typical mythologizing to remind us that this extraordinary millennial-defining moment happened to an individual, a person just like you and me. Armstrong was a husband, a father, an engineer, and a man haunted by the death of his young daughter, as well as the deaths of so many of his colleagues who were instrumental in achieving the country's goal.
This is not a screenplay with rah-rah speeches. As played by Gosling, Armstrong is not eloquent. He's a practical, hard-working, and—depending on your viewpoint—broken and/or obsessed man. Chazelle brings Armstrong's interior life to the forefront, also giving the relationship with his wife Janet Shearon (Claire Foy) ample screen time. At every turn, First Man reminds us the cost of this mission on the families involved, and in a couple of key scenes, provides an extraordinary and humanistic interrogation of the reasoning behind the space race.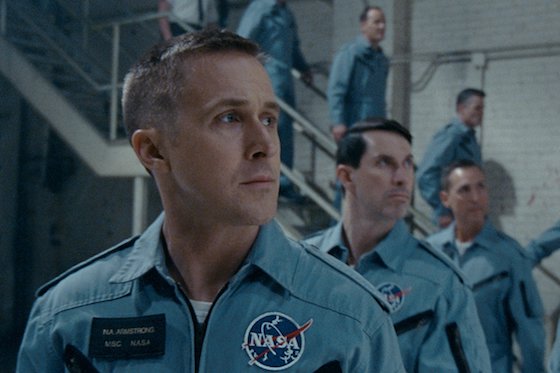 Although Chazelle's story is broad, he keeps the focus personal through the use of drab settings, grainy cinematography, tight framing, and frequent close-ups. When Armstrong is on camera, whether piloting aircraft or spacecraft, the view is claustrophobic and mostly limited to his control panel displays and the little he can see out of tiny windows. Danger is amplified for the viewer, not only because the '60s technology supporting Armstrong's life now seems antiquated but also because of the film's intense sound engineering, which, for example, convinces us that the tin can Armstrong is flying could come apart at any moment.
Because Gosling and Foy also turn their performances inward, the result is less showy than in previous man-to-moon blockbusters. But First Man earns its 130-minute running time by taking as much patient care of its characters' emotional journeys as it does with the drama inherit to the space race. This may not translate into Oscar accolades, but it propels Chazelle's compelling vision of viewing an iconic American story from the inside out.
This review is part of Eric Melin's "LM Screen" column that appears in the upcoming winter edition of Lawrence Magazine.