I am obsessive about films and music. If I like an album, I don't just listen to it once or twice and move on, I'll listen to it endlessly for weeks, sometimes months on end. Just ask anyone at my work if they want to listen to Death Cab for Cutie's "Transatlanticism" or Jay-Z's "Black Album." If I love something, I will listen it to death and then give it CPR and kill it all over again until I am forced by a loved one to stop or I find a new subject. I am the same way with films and television. Movies, like albums, are meant to be watched over and over again. When done correctly, each time you watch something of substance, there is something new to be uncovered.
While I am a big fan of Joss Whedon ("Buffy the Vampire Slayer," "Angel") and his story-wielding genius, I wasn't impressed first go-around with last year's feature "Serenity." "Serenity" was the continuation of the short-lived Fox series "Firefly." Eric and I went three rounds over whether or not the movie would play well with audiences that weren't familiar with the show. At the time I thought the film was trying too hard to deal with unfinished business and now all I want is more- more unfinished business, more of the cast, more of the jagged and unconventional CGI. I'm pretty sure two more seasons would do it.
In an "I've seen everything, what the hell do we rent now?" moment at the video store recently, I picked up "Serenity" for a second spin and saw a completely different film. This is just the most recent example building my case in defense of seeing a film more than once. After the revelation with "Serenity," I ran right out and picked up the "Firefly" series and- lo and behold- it was as brilliant as I hoped, and a little more.
One of the most difficult aspects to writing film criticism is that most of the time we only get one opportunity to view a film before we have to dissect it and talk about the experience like experts. Some movies of course, don't require an additional viewing. A film like "Basic Instinct 2" should only come around again if you are deliberately attempting to hurt yourself or others. I'm confident that once was enough for "Mission to Mars" or "Battlefield Earth." "Cast Away," however, is one of my favorite films of recent years and I only chose to give it a second spin after I saw a Charlie Rose interview with Bob Zemeckis and Tom Hanks discussing how much time and heart they put into developing it. There are many instances of second chance discoveries, but none sticks out any further for me right now than "Firefly."
The show was canceled after 11 episodes, but Whedon and company completed 14, all of which appear on the box set. Along with the show, the DVD extras- worth watching for a change- show the fan support and fervor leading up to "Serenity." The bonus features also go into more detail about Whedon's unique vision of the future. Set 500 years in the future, humanity has not yet discovered alien beings and China and the United States have become a blended culture. The Alliance, the government system that has created new sustainable worlds to live on after Earth's resources have been exhausted, controls the inhabitable planets and continues to exert its control in the universe.
In my original piece on the film, I quipped that "Serenity" was the new adventures of Han Solo. I stand by that, especially after hearing Whedon himself talk about developing his vision for a show about working people in space and immediately thinking of the Millennium Falcon. Malcolm Reynolds captains a smuggling ship, is occasionally a mercenary for hire, and has a stripe down the side of his pants, all of which scream of the anti-hero in George Lucas' galaxy. Actor Nathan Fillion ("Saving Private Ryan") personifies one of Whedon's great creations as a former rebel soldier full of wit and clever contradictions. Unlike Solo, though, Reynolds is challenging and 3-dimensional.
It is not unusual to see amazing women in Whedon's work.  "Buffy" and "Angel" were anchored on their powerful females. "Firefly" has four of the best written women on T.V. and virtually no one has seen it. Whedon continues his streak of inventive and original female characters with intriguing new presentationis of women in space, nothing like Princess Leia or Yeoman Rand. Instead, Serenity's female crew is comprised of a second-in-command, the ship's mechanic, a registered Companion (or space escort) and a psychic teenage girl rescued from government captors who are bent on creating a weapon out of her. The captain's right-hand woman Zoe, Gina Torres ("Angel"), is the most recognizable member of the "Firefly" crew with the exception of Adam Baldwin. Baldwin was Linderman the bodyguard in "My Bodyguard," and has a mile-long list of movie and television roles which make him easy to recognize and hard to remember. His resume is extensive, but "Firefly" gave him the rare opportunity to play a substantive role. His character Jayne is the dimwitted heavy of the crew and another example of Whedon's ability to put a comic twist to what might otherwise be cardboard cutout characters- not unlike Baldwin's five minutes in "Independence Day."
The "Firefly" universe is remarkably different from the Star Wars and Star Trek worlds. With good reason, George Lucas and Gene Roddenberry's efforts are the measuring stick that all sci-fi celluloid must live up to. What makes Whedon's concept so different from the big two is the absence of aliens. Humans have become the aliens, having been permanently wrenched from their home planet and forced to live and work on the worlds created and controlled by the Alliance. Instead of the overtly militaristic, advanced civilizations of Star Trek or the fantastic mythology of Star Wars with its clearly defined heroes and villains, "Firefly" is constructed to be a western in space- think Louis L'Amour meets "Blade Runner," or "Battlestar Galactica" meets "Silverado."
Further evidence of Whedon's difference of approach is in the effects department. "Firefly" has a unique visual voice, utilizing shaky cameras, quick whip-shots and zooms that most directors wouldn't touch. The result is a sense of being a spectator and witnessing the action first hand. The ecstatic CGI artists – interviewed on the extras – beam with excitement at "Firefly's" offer to break ranks with tradition and attempt things in effects they have always been warned not to do.
If you take the time to watch the series- and obviously I'm recommending you do- you should also watch the special features and get some insight into the people involved in making the show. You can easily get the sense that everyone on "Firefly" knew they had lightning in a bottle, even if no one else understood- not the networks or the studios. They all knew it would be a defining moment in their lives and careers. I remember watching "Ocean's Eleven" (the Clooney version) for the first time and thinking it just seemed like the cast was having an incredible time making that movie. I've read it in interviews since, but sometimes the feeling and energy of those involved helps to noticably elevate and inform the piece. That is certainly the case with "Firefly" and "Serenity," everyone believed in the show and what it was trying to accomplish and that is what makes the most obsessive fans.
For those of us who do get it, it's that much sweeter, that much more our little secret. The battle to bring back the show or make another film is long over. There are no bumper stickers to sneak onto studio lots and vandalize executive cars like the Trekkies that saved the original Trek. There isn't a petition to sign or network to hassle, but rest assured if there was I can think of few shows more worthy of excessive fandome and a little civil disobedience than "Firefly."
So, I write this diatribe in defense of watching something more than once or listening to a record until your friends hope you call in sick to work. If you don't, you may never know what you've missed. If something is truly great, it may take a few times through to appreciate it. Some of my most cherished records didn't grab me instantly. Differentiating between the gems and the dregs isn't that difficult, but every once in awhile you miss something. If I hadn't gone back to "Serenity" just in case, I certainly would have missed out on the entire "Firefly" universe, an extraordinary show which has become one of my all-time favorites.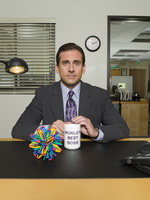 joss whedon, creator of "firefly/serenity," directed two episodes of "the office," starring this guy. who is he?