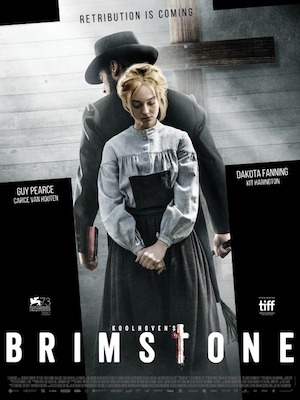 [Solid Rock Fist Up]

Infanticide, incest, torture, self-mutilation, child sex slavery, murder: all and more are on display in writer-director Martin Koolhoven's Brimstone.
A non-linear story of fear, religious zeal, sexual exploitation, and revenge, the picture ripens as the runtime winds down, and builds towards a harrowing conclusion that feels surprising and inevitable all at once.
And while it is often tough watch, like, really goddamned tough, Brimstone is true to its story and characters: never flinching or begging off a hard truth or an ugly turn.
The audience enters the movie in media res, and is introduced to a mute midwife (Dakota Fanning) in a vaguely defined time and place that feels decidedly mid-western American post-Civil War, but pre-Industrial Revolution. This midwife lives happily in a rural community with her husband, daughter, and step-son, yet their world is shaken up with the arrival of a preacher (Guy Pearce). This preacher's new ministry coincides with an unfortunate labor complication, and the two developments set off a chain reaction that upends the midwife's existence and endangers all those she holds dear.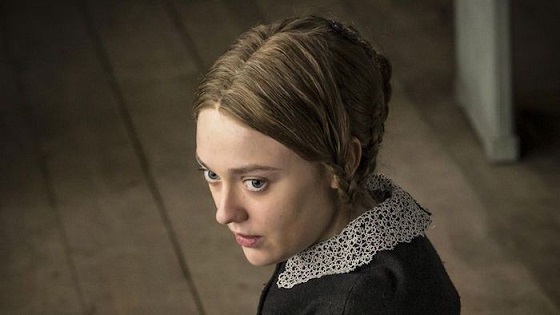 Brimstone is broken into four chapters, and this first one lays the groundwork for the midwife character (who goes by Liz at times) and the mysterious preacher who she fears due to a past not-yet revealed. As Koolhoven's film progresses, it inches back on itself to reveal the crucial backstory for the chapter just concluded: the full picture only in sight once the third section is completed. It is an interesting device, and is the key ingredient to establishing Brimstone as more than just the sum of its parts. There is a lot left unsaid early on regarding the midwife, the preacher, and their past, yet the script does a great job doling out just enough information to keep the story going.
There is a lot of ugly unpacking to be done on the way towards the plot's full exposure, and as mentioned earlier, some of it is difficult to endure. Each chapter has its own cross to bear in this regard, whether it is choking someone to death with their own intestines, raping and whipping little girls, or nonconsensual bondage devices. The story justifies pretty much all of this by way of the story it wants to tell, yet it doesn't make any of it easier to stomach. Game of Thrones fans might feel at home with a lot of this, both because of the similar gore factor between both productions, and due to the fact that series regulars Kit Harington and Carice van Houten are featured in Brimstone. Somehow, though, Brimstone feels darker and meaner than HBO's critically acclaimed series, a commendable feat in and of itself.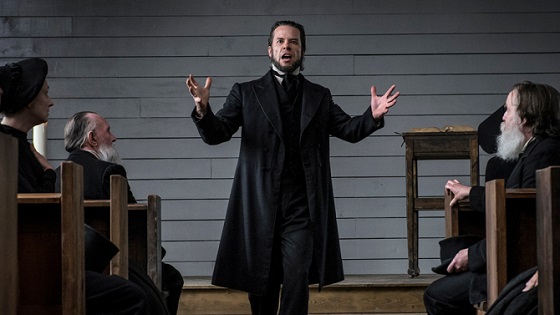 At its core, Brimstone is about gender roles, sexual exploitation, and religion as a fill-in-the-blank ethos that can be used by anyone in power to impose their will on a weaker individual. To say much more about the plot would spoil vital elements crucial to the film's slow series of reveals, yet it should suffice to say that the preacher and the midwife have an extensive history of sexual and psychological manipulation rooted in a skewed interpretation of Christianity. With each new chapter, another door is opened in the story's cobweb shrouded mansion. Indeed, if the audience is a visitor to this estate/movie, Brimstone plays out like someone coming upon a dead body on the front steps, with a blood trail leading in that tells the story of the murder, room by room.
As a production, Brimstone is a clinic in top-notch period filmmaking. The costumes, make-up, set design, and even the sound work all speak to an experienced hand behind the camera, and thoughtful, precise work by the various department heads involved. Indeed, if there's any failing, it is in the script, which sometimes feels like ten pounds of story in a twenty-pound bag. And while the structure of the movie makes up for much of this failing, it can't completely bridge the gap at all times. For example, the preacher character comes off as borderline supernatural at times, for his abilities and the feats he accomplishes stretch the bounds of reason (though never breaking them). The fully revealed truth of the entire story also doesn't seem to justify four chapters revolving around pretty much the same theme, yet again, the way Brimstone gets at this truth makes up for this occasional failing.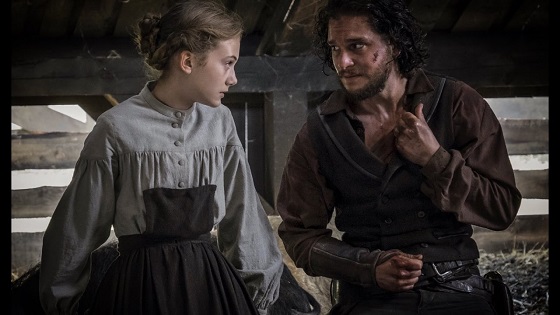 Dakota Fanning and Guy Pearce carry the film when it begins to sag under the weight of these burdens, and both turn in some of the best performances of their respective careers. Fanning does especially good work playing a weathered, world-weary woman who has endured unspeakable tragedies, yet must nevertheless soldier on time after time. Kit Harington's turn is also a fun detour in an otherwise dreary affair, even if his accent wanders more than his transient cowboy character.
All of this adds up to a decidedly unique and moving film that might not be for everyone, but is nevertheless engaging, gripping, and terrifying. A tough watch, to be sure, yet one that also justifies its existence and stays with the viewer long after it has concluded.
Brimstone is in select theaters and On Demand / Digital HD on March 10, 2017.