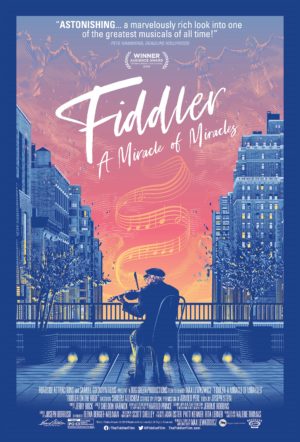 [Rating: Rock Fist Way Up]

"As long as humankind exists and continues to have struggles, Fiddler will be there." 
–Danny Burstein (Broadway Revival – Tevye)

Storytime readers, in eighth grade, yours truly was in a middle school production of Fiddler on the Roof. My music teacher assigned us parts and I ended up playing Tevye, the lead in the production, to what I look back on as my own rave reviews. It was a highlight of my youth and one that opened up a chapter to know, appreciate, and love the musical Fiddler on the Roof.
Fiddler: A Miracle of Miracles (Directed by Max Lewkowicz) was made for me. This documentary is a love letter to one of the most celebrated Broadway musicals in history, and is a testament to just how deep the story of a small village in Eastern Europe and a milkman with his family can actually be. The story of Fiddler is a wonder of wonders, a miracle of miracles that keeps on giving back to those who have been with it all these years, and those just discovering the magic. 
When Fiddler opened in 1964, the reviewers were less than kind. Many in the theater critics world, didn't "get" the traditional Jewish narrative or the choreography. Audiences however, came to love the production almost from the start. With a few changes to the score in pre-runs off-Broadway, Fiddler found its way to Broadway and captured audiences hearts, with stories and characters they could relate to. The story of Tevye and his daughters, who want to be their own women and choose who they want to marry and not who their father wants them to marry, was revolutionary for the time. Many also found the opening number "Tradition" to be the start of the many traditional Broadway musicals of the past few decades coming to a close as new, near "experimental" works being created.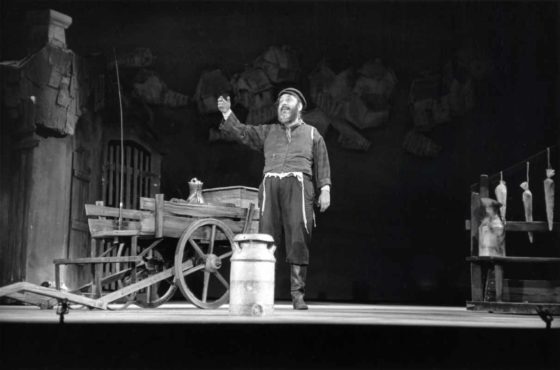 The documentary includes many moments from Sheldon Harnick, one of the co-writers who talks about the creative process and how even places like Japan have responded well to the show. People like Joel Grey who took the show and produced an off-Broadway all-Yiddish produced version, are interviewed on how important the story is to them. The biggest highlight was seeing Topol, the film version of Fiddler's Tevye, looking so well and so happy to be included in what the show means to him all these years later. It melts my heart to know younger generations are performing Fiddler for their own school plays, bringing back so many memories. 
Fiddler: A Miracle of Miracles is a joy to watch. Not often do musicals get their own documentary treatment, but those that do stand the test of time in being some of the best that both inspire others and connect to others on personal or emotional ranges. Fiddler on the Roof at its high point is a story of the fortune of family, the acceptance of tradition and keeping faith alive when all seems lost. To those like myself, this is the epitome of a perfect story.