There is a twisted sort of circular logic at play in "Margot at the Wedding," writer/director Noah Baumbach's newest look at self-absorbed East Coasters (which is the follow-up to "The Squid and the Whale," his 2005 picture about self-absorbed East Coasters).
Nicole Kidman plays Margot, a writer who has cribbed so extensively from her own life that her family can see right through her "fictional" short stories. You see, Baumbach himself is a native New Yorker who admittedly based his last movie on some of his own dysfunctional family experiences, and here he is again doing the same thing. But this time, the "Noah" character isn't a teenaged victim of awful parents who have no real regards for their children's feelings, like "Squid." His stand-in here is Kidman's Margot, and it's as if he's apologizing for his own cribbing by making the title character as unlikable as possible.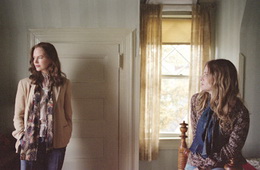 But Baumbach is smarter than that. In addition to being the most selfish person in the room at any given time, Margot is also the smartest and—unbeknownst to her—the funniest. I wouldn't go so far as to call her sympathetic, but she is able to cut down those around her with lightning-quick viciousness while simultaneously painting herself the martyr. We assume that, like the director, Margot is able to immerse herself fully in the little details and quirks of personality, so it's quite a feat that she can also manage to be completely oblivious to everyone's feelings at the same time.
Getting dizzy? I am, and that's one of the fascinating things about "Margot at the Wedding." Do you need to have likeable characters to have a good movie? No, and especially not when the characters embody scary traits that are so familiar but so little explored. Sure, they may be the kinds of things we don't want to admit we see in our families or ourselves, but that doesn't make it any less fascinating. Good writing challenges you to confront the complicated beings that we really are, not the easier-to-swallow "types" that so many movies want us to be.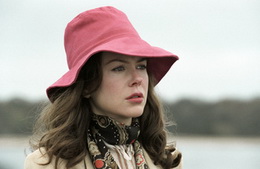 It is the fifth paragraph and still there's no plot summary. If you haven't figured it out by now, this review will not follow the typical movie review structure. Hell, I haven't even told you who else is in the movie. Jennifer Jason Leigh (Baumbach's real-life wife, more circles) plays Margot's equally neurotic sister Pauline and Jack Black is her lucky groom-to-be, a jobless contradictorian (someone top of the class at being antithetical—look it up!) who talks a lot about stuff that he says he's going to do.
Margot's long-suffering son Claude (Zane Pais) seems used to his mother's razor-sharp putdowns, which she wields in his direction way more often than any kid should have to endure. Ironically, Margot never seems to have grown out of that awkward teenage phase where you insult others as a defense mechanism to hide your own insecurities. Claude is supposed to be the one still trying to find his identity, not his mother.
What comes around goes around in "Margot at the Wedding." It is a measure of how well-drawn these characters are that when Margot finally gets hers (in public, and from no less a rival than a vengeful lover), she feels that she is losing the upper hand she is so used to having, but hasn't a clue why. Kidman is utterly convincing and fearlessly funny. This is one movie where you don't need to feel any shame for laughing at the characters, especially since they think they're smarter than you anyway.