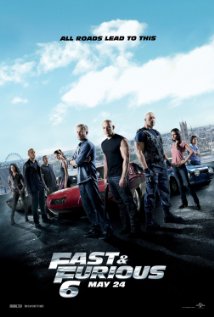 With the release of Fast Five, the Fast & Furious series solidified itself as a franchise completely insulated in its own weird world governed by its own laws, rules and culture. Gone were pesky things like Newton's laws of physics or a realistic depiction of human fragility. Characters had always been thimble deep and the series equally ogled cars and the sorta-clothed, perpetually shiny women who hung on them. But there was something about turning a series that wasn't about anything into a heist movie that made it oddly compelling, not to mention fun.
Now, Fast & Furious 6 is here and it takes everything mentioned above and goes bigger, dumber and even more funner. Vin Diesel and Paul Walker return as Dom and Brian, respectfully, and they're joined by Dwayne Johnson, Jordana Brewster, newcomer Gina Carano and the rest of the gang for what amounts to be a save-the-world-from-terrorists plot that is mentioned quickly at the outset before getting out of the way, so that the series and director Justin Lin can do what they do best: highly choreographed chase scenes, punctuated by explosions o'plenty.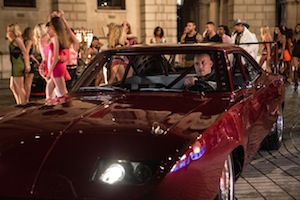 Sure, there's a plot about Michelle Rodriguez returning from the grave, not literally, but given the insane directions the series likes to go, zombies could end up in the sequel. And sure, there's a major character from the last film who is written off within the first 10 minutes. But that all goes out the window when the first chase involves modified F1 race cars that are built to launch oncoming traffic into their pursuers faces.
And what's more, Fast & Furious 6 constantly outdoes itself in the ridiculous department. F1 race car traffic deflectors are immediately outdone by a foot chase that features some of the best physical comedy seen this year, which is in turn later outdone when a character launches himself through the air to catch another character who has been thrown from a moving tank, which is then outdone by – you get the point.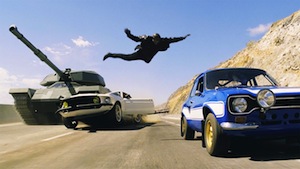 After seeing The Raid: Redemption Roger Ebert said he could no longer review genre movies as simply genre movies. He felt compelled to look at films as part of a bigger, more meaningful canvas. But he wasn't always that way. It took him time to get there. Maybe I'll get there too. Maybe I'll join the legions of people who picked apart Star Trek Into Darkness or The Hobbit, but for now I'm still a visceral viewer. I'm still moved by the immediate charge supplied by the medium, and while seeing the bigger tapestry is important. Sometimes there's beauty in an individual square of fabric too.
The beauty of a movie like Fast & Furious 6 is that it doesn't hold up to immediate scrutiny at all. The characters are shallow. The plot is flimsy. There's an entire detour with Walker's character that goes nowhere. The Rock's dialog is laughable at best. But what holds true for the movie – and to a lesser extent – the franchise is that it pains itself to be fun.
Fast and Furious 6 is by no means a perfect movie. Not even close. But it is a near-perfect Fast & Furious movie and that means that it's absurd, often hilarious and it bends over backwards to entertain the audience, physics, logic and reasoning be damned.