Here are some capsule movie reviews of the phallic documentary The Final Member and the vulgar comedy New Kids Nitro from Fantastic Fest 2012 in Austin, TX. Click here for full Fantastic Fest coverage.
The Final Member (Rock Fist Way Up)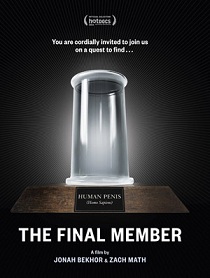 In Iceland, there is a Phallological Museum. What started with the gag gift of a penis in formaldehyde in 1974 became an obsession for Sigurdur "Siggi" Hjartarson. Over the years his collection grew from a display in his home to a full-blown and fully funded museum in the heart of the homeland of Björk.
While the mere existence of this museum does make for interesting documentary fodder, the dramatic hook of the Canadian documentary The Final Member, directed by Zach Math and Jonah Bekhor, comes in the form of Hjartarson's quest for the last specimen he needs to complete his life's work — a "legal length" penis of a human. Acquiring a man's penis is apparently not very simple. A person has to specifically agree to donate his penis to the museum.
Luckily enough for Hjartarson, there are two such men jockeying for their place in the museum, each for varying, though equally self-serving reasons. The American in particular is one of the most entertaining characters I've seen in a film this year, fictional or otherwise.
What could have been a crude, scatalogical film filled with grossout moments is instead a humorous, thoughtful, and beautifully photographedportrait of eccentricity and inspiration.  Always fascinating, sometimes elegiac, and ultimately triumphant, The Final Member emerges as the biggest surprise of Fantastic Fest 2012 so far. Its also the perfect length, so it never feels like too much to take in. It's a penetrating look  at eccentricities and obsession.
It's early, but Fantastic Fest has an early favorite for the best of the festival.
New Kids Nitro (Solid Rock Fist Up)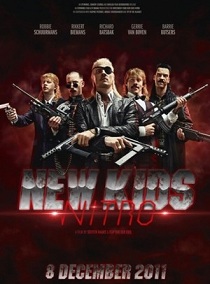 The explosive sequel to last year's surprise Dutch comedy hit New Kids Turbo, New Kids Nitro has big, vulgar shoes to fill. And it succeeds by being just as anarchic and irreverent as before, sending its five moronic and mulleted protagonists into the plot of a Zombie film … eventually.
Before it gets there it finds time to both make fun of the running gags of the previous film via meta commentary and spin its wheels a bit by setting up a rivalry between the boys and the seemingly resurrected antagonist of the previous film.
This gives directors Steffen Haars and Flip van der Kuil time to play with the cliches of the Fast & Furious series and its ilk, along with other action and horror film cliches in the same way that helped make the first film so fun. Of course as customary for sequels, everything is bigger, dumber, flashier, gorier, and in some cases, funnier. While I'm pretty jaded with the zombie genre, New Kids Nitro does manage to make it fun again.
Comedy sequels almost never work, but thankfully this is exception. Still, there is the sense that the filmmakers have done all they can with these one-dimensional characters. Thankfully a New Kids 3 is reportedly not on the horizon anytime soon. So while New Kids Turbo is now a little less unique, New Kids Nitro is a welcome addition to any fan of lowbrow comedy who think they've seen everything.