Fantastic Fest 2012 in Austin, TX just finished up and these are capsule reviews of three of the biggest award winners. Click here for full Fantastic Fest coverage.
Vanishing Waves (Minor Rock Fist Up)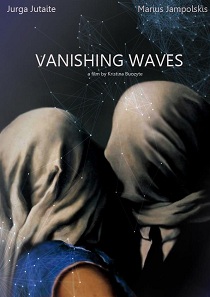 Best Picture at Fantastic Fest 2012 was won byVanishing Waves, a Lithuanian sci-fi erotic thriller that also took home the Best Director prize, Best Screenplay prize, and Best Actress. Award-winner Jurga Jutaite plays a comatose woman whose neuron information is implanted in the head of a scientist (Marius Jampolskis). As the surreal dream-like sequences inside his mind play out while he lies in a sensory deprivation tank (think Altered States), he becomes obsessed with the woman and holds back telling his cohorts in science what he's really experiencing.
Writer/director Kristina Buozyte creates some stunning dreamscapes and puts together the shared-experience sequences with a real freshness. This isn't the ornate renderings of Tarsem Singh's The Cell or the universe folding in on itself like Inception. In addition to being stark, shadowy, and beautiful, these moments — where Vanishing Waves is at its strongest –are mostly wordless and open to interpretation.
Sadly, the scenes outside the shared world are pretty rote. Jampolskis' real life relationship suffers and he lies to his fellow researchers, so the tension is ratcheted up, but sometimes his obsession feels like a typical reaction of any horny guy who is surrounded by a beautiful naked woman a lot of the time. The ending is a disappointment, but it does feel like a real bond exists between characters, so Vanishing Waves succeeds in a genre — erotic thriller — where missteps are expected.
Crave (Minor Rock Fist Down)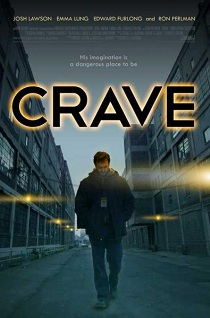 Charles de Lauzirika won the Best Director award in the category of "Next Wave" for his first full-length feature Crave. For the last 10 years, de Lauzirika has been a DVD/Blu-ray restoration and extra content producer, so it's no surprise that Crave boasts excellent production values and a solid cast. (Ron Perlman is completely wasted in a small role as a sounding board for our unsympathetic and possibly psychotic anti-hero.)
The director's style is slick and violent, but the screenplay (co-written by de Lauzirika and Robert Lawton) has way too many voice-overs that spell everything out. Voice-over is always a dangerous prospect, and Crave is a perfect example of why you should think twice before using it, especially if your character's inner monologue isn't really worth listening to. Ironically, somehow the protagonist — a lonely crime-scene photographer played by Josh Lawson — still manages to do inexplicable things despite the fact that we're spending most of our time inside his head.
Crave wants to be taken seriously but doesn't have the thematic coherency or originality to back up its "edgy" tendencies. It suffers from the common film-school disease of a lead character whose entire story is self-pitying malaise and inaction. It doesn't make for a very exciting movie. Even the "romance" with the 10-year-his-junior girl-next-door (Emma Lung) is completely unbelievable.
I Declare War (Solid Rock Fist Up)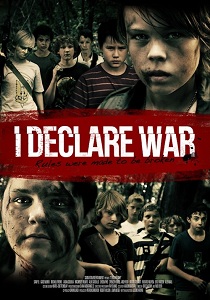 Directors Robert Wilson and Jason Lapeyre are the twisted and creative minds responsible for I Declare War, a strange hybrid film that works as a war parody and also a painful examination of the heightened reality and growing pains of puberty.
I Declare War won the Audience Award at Fantastic Fest this year and its easy to see why. Not only are young actors Gage Munroe, Siam Yu, and Mackenzie Munro terrific, but the subtext of the movie is easy to relate to and never far out of reach of the plot.
Besides being a Lord of the Flies-style story where everything spirals out of control and deeper truths are revealed, I Declare War has a neat formalistic trick up its sleeve that helps this heightened reality seem as life and death as to the audience as it does to it's teenagers.
Wilson and Lapeyre show the audience what the grim reality of the kids' little war game would look like if it were real. We see blood. We hear the rat-a-tat of machine guns and see fire coming from them. Kids use words like "kill."
That's because figuring out who you are and where you fit in can feel like war at this age. I Declare War brings all those feelings rushing back and is rousing, funny, thoughtful entertainment to boot.