Here are some capsule movie reviews of the Brandon Cronenberg thriller Antiviral and the faux documentary The Conspiracy from Fantastic Fest 2012 in Austin, TX. Click here for full Fantastic Fest coverage.
Antiviral (minor rock fist up)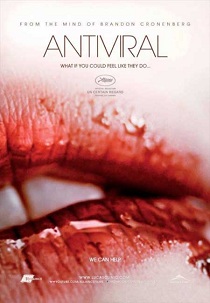 In an alternate reality, celebrities are so worshiped that people pay designer clinics top dollar to be injected with copy protected viruses that once infected those celebrities, as well as feast on muscle tissue steaks laboratory grown from the DNA of those same stars.
If this sounds like the set up for a David Cronenberg film, you're almost right. Antiviral is the directorial debut of his son Brandon Cronenberg. And like several of his father's films, this one walks a fine line between fascinating ideas taken to logical and literal extremes while maintaining narrative coherence.
It follows the story of Syd March (Caleb Landry Jones), a technician at the Lucas Clinic, the premier destination for those whose celebrity worship knows few bounds. March spends his weekend smuggling viruses home from work by infecting himself and then removing the copy protection with a stolen rig he hides in a false wall in his apartment to then sell to the black market. However, when a celebrity dies from the very virus he has injected himself with, March finds himself the target of several groups who would kill to have access to the deadly strain.
Antiviral  is at its strongest when it raises questions about society's boundless fascination with celebrities. Knowing how he grew up around people who also were world famous, it's understandable Cronenberg's screenplay would espouse such a striking perspective and the film is at its strongest when it explores those ideas.
Despite being described as a horror film, it feels more like a thriller, aside from a seemingly tacked on dream sequence/hallucination that tries to satisfy those looking for his father's trademark body horror.
While this  film mostly works, I'm more excited to see where Cronenberg goes from here as he escapes his father's shadow.
The Conspiracy (solid rock fist up)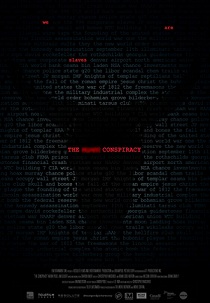 An interest in a possibly unhinged street prophet (Alan C. Peterson) shouting conspiracy theories over a megaphone leads two documentary filmmakers (played by Aaron Poole and James Gilbert) into a world they never could of imagined in the faux documentary The Conspiracy.
While initially incredulous to the words of the conspiracy theorist, their search for truth intensifies when he appears to completely vanish. Salvaging newspaper clippings from his abandoned apartment, they take it upon themselves to figure out if he might have been on to something. This eventually leads them to the Tarsus Club, a shadowy secret society of some of the world's most rich and powerful.
After stumbling upon the existence of the club, the filmmakers are fed details by a former journalist who asks that his identity be concealed. Not only does this group plan and coordinate many world changing events, but they routinely hold nefarious and ritualistic hunts inspired by the worship a deity named Mithras.
While that may sound particularly insane, the Tarsus Club is actually inspired by the real-life Bohemian Grove, a club where rich men really do meet and put on animal masks. It's details like this that make the extremely well researched The Conspiracy work. As writer/director Christopher MacBride shifts focus in its third act to a truly frightening riff on found-footage horror movies, the film deftly comments on the filmmaking process and the unreliable narrator phenoma.
Brilliantly constructed, tense, and ultimately satisfying, The Conspiracy is worth investigating.