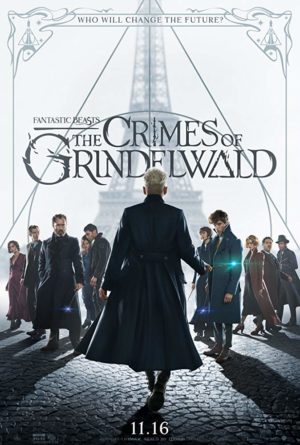 [Rating: Minor Rock Fist Down] 
The Wizarding World of J.K. Rowling is a vast and ever-growing franchise that began a sophomore slump of sorts once it morphed into the first film in new series: Fantastic Beasts and Where to Find Them. This new franchise is planned to be an expanded five-movie concept. As a Potterhead myself, I am elated as always to revisit this world that I love and connect to. And as a fan, I am now – with the second film in the series – already disappointed with the direction it wants to go.
In the new film Fantastic Beasts: The Crimes of Grindelwald, there is less "fantastic beasts" than there are old characters and fan service moments. There's also too much Johnny Depp, as the titular Dark Wizard bent on creating a new world order. This new film fails to hit the magical mark its predecessor hoped to set and instead becomes a dark (both figuratively and literally) chapter in this new saga.
Like the 2016 Fantastic Beasts, this film finds Newt Scamander (Eddie Redmayne) back in England. Now he is pleading with the Ministry of Magic to reinstate his visa out of the country so he can find his beasts. Of course they refuse, but with the help of Dumbledore (Jude Law) and friend Jacob Kowalski (Dan Fogler), he escapes and travels to Paris in hopes to find Tina Goldstein (Katherine Waterston) and reunite Jacob with an AWOL Queenie (Alison Sudol).
At the same time, Credence Barebone (Ezra Miller), the character introduced as a dark malevolent force in the first film, is on a mission alongside Nagini (Claudia Kim though not as a snake) to discover who he is and why his family abandoned him. All of these characters and more (you're already reeling from all this, I know) get tangled up together in the main goal of stopping Grindelwald; alongside Dark Wizard hunters Leta Lestrange (Zoe Kravitz) and Theseus Scamander (Callum Turner), before Grindelwald can start a war between the magical communities. Now to this "basic" plot synopsis, add about a million more spoilers, a million more points of exposition, back stories and plot twists, and there is the movie.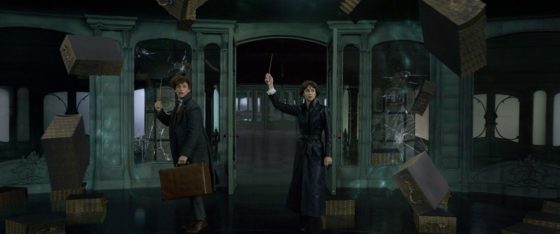 The "good" characters always outweigh the "bad" ones in movies like this, but here, it's about dead even. The new characters introduced are delightful and really help other characters flourish more. The real highlight is that of Jude Law as Dumbledore. There was hesitation among fans for this casting, but Law is fantastic and we could have seen even more of him. And Depp is effective in the role of Grindelwald. In many of his several long monologues, there's actually a spell of evil to him that's enjoyable, even if it is Depp being typically Depp. Outside of being a solo act, he has little chemistry with others and becomes a one-dimensional bore. Rowling's script also offers a lot of character background and development, which of course is very clever, alongside plot points that are frustratingly teased and built up throughout, but then fizzle upon landing.
The real mediocrity of this movie however, is that the world building takes precedent over conscise storytelling. There's so much here and so little time to fit it all in, dare one say this could have been two movies? Every character seems to have a story and some characters have such important stories, that its easy to lose track. There are tiny moments where throwbacks to the original Harry Potter stories are thrown in, and while they're fun to watch, it's more about getting the fans hyped about scenes that just aren't hypeable. And what about the beasts? Where did they go? Why are only two or three introduced – and then abandoned?
Questions without answers seems to be key to the success of keeping people interested in Fantastic Beasts . But the ending here is a real gut punch. Let's just say this reviewer wanted to scream in the packed auditorium for how cheap the conclusion to this story felt.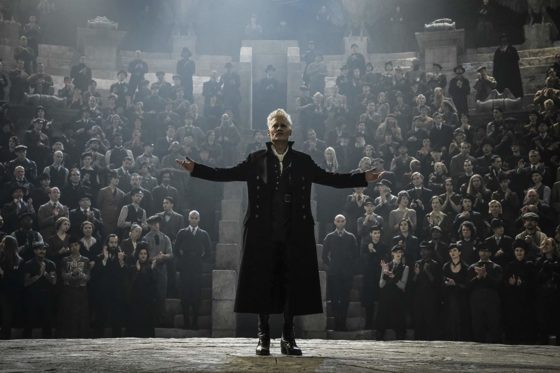 By now, director David Yates knows how to make a chapter in a billion-dollar franchise ZING to life. But this movie has a truly ugly visual style. The color is dismal. Paris is a vibrant city and yet, I suppose for wizards, it's just plain gloomy, saturated with greys and browns for the entire length of the film. It may match the tone of the story, but it's a creative choice that doesn't work and emphasizes the lack of fun in this world.
Still, I will watch this movie again. It would go against my Harry Potter loving life if I didn't give it more chances. Can I accept it into my heart as a Rowling favorite? Sadly not. No,Fantastic Beasts: The Crimes of Grindelwald is a low point in this otherwise thrilling world of witches and wizards.
While the characters themselves are the best part of this entire entry, giving everything else equal weight bloats the movie to a standstill. There are going to be three more of these. One can only hope the next couple are going to be a lot more exciting than thisone. In hindsight, this movie is the first in the series to be this dark, as its predecessor was just a fun romp before that eventual downturn. It will be interesting to see whether Potterheads like me will embrace it, or whether they will suffer through it, knowing the promise of more will keep them coming back to the theater the next time.